These Coffee Cookies are perfect for satisfying your sweet tooth. A delicious combination of rich coffee flavor and crunchy texture, these cookies will have you coming back for more. So if you're a coffee lover looking for a new treat, or just looking for a unique cookie recipe to try, give these Coffee Bean Cookies a try.
Coffee and cookies are two of the most delicious and popular foods in the world. And what could be better than combining them into one delicious treat? That's right, coffee beans and cookies! These coffee bean cookies are the perfect combination of two classic flavors. The cookies are made with real coffee beans, giving them a strong coffee flavor that is balanced out by the sweetness of the cookie. They are perfect for coffee lovers and cookie lovers alike.
My daughter has loved coffee everything since she was a toddler. When I pitched the idea of coffee cookies to her she jumped on it and it was the first thing she wanted to make on our most recent 'Baking Me Hungry Day'. We couldn't resist tasting the batter and it was just as good as the finished product.
For another amazing cookie try these Biscoff Butter Cookies or our Salted Brownie Cookies!
Ingredients
Flour – All purpose flour is a type of flour that can be used for many different things. In cookies, it can be used to create a variety of textures, from chewy to crispy. It can also be used to add structure and stability to the cookie. All-purpose flour is made from a variety of different wheat flour, which gives it its unique properties.
Sugar – White sugar sweetens the taste of the food, adds moisture, tenderizes the dough, and caramelizes during baking to produce flavor and color.
Brown Sugar – Brown sugar is often used in baking because it provides a deep flavor and rich color. When used in baking recipes, brown sugar helps to create a moist and chewy texture. It also helps to add depth of flavor to cakes, cookies, and other baked goods.
Vanilla Extract – Vanilla extract is commonly used in baking as a flavoring agent. The main purpose of vanilla extract in baking is to add flavor and aroma to the final product. Vanilla extract is also known to contribute to the browning of baked goods.
Instant Coffee – Instant coffee is coffee that has been dried and turned into a powder. When you want to drink it, you just add water and it turns back into regular coffee. It works very well in baking to impart a coffee flavor when added liquid wouldn't work in the recipe.
Oil – The most common type of oil used in baking is vegetable oil, which is a liquid fat that is derived from plants. Other oils that are sometimes used in cookies include olive oil, coconut oil, canola oil, and butter. If you prefer you can use room temperature butter in place of the oil. Salted butter or unsalted butter are both fine.
The purpose of adding oil to a cookie recipe is to help create a tender and moist texture. Oil also helps to keep the cookies from spreading too much during baking.
Eggs – Eggs play an important role in cookie baking. They add structure, leavening, and richness. Without eggs, cookies would be flat, dense, and less flavorful. I develop my recipes using large eggs.
Baking Soda – Baking soda is a leavening agent that is often used in baking. Always check that your baking soda is fresh and not expired.
Chocolate-Covered Espresso Beans – Chocolate-covered espresso beans are a type of candy. The bean is the coffee part and the chocolate is, well, chocolate. They are usually dark chocolate and they can be bitter and sweet. Some people really like them and some people think they are an acquired taste. You can add them to these coffee cookies or make the coffee cookies without them! They are delicious either way. I love the extra hint of chocolate and burst of coffee flavor when they are added.
How to Make Coffee Cookies
Step One: First, stir together the dry ingredients in a medium mixing bowl.
Step Two: Next, add the wet ingredients to the flour mixture in the medium bowl. It doesn't matter what order they are added.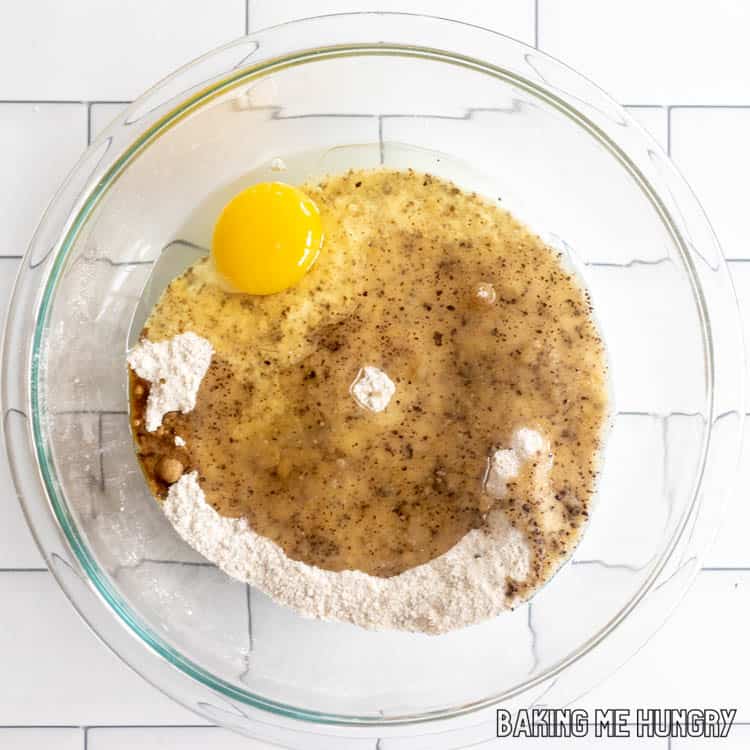 Step Three: Then mix the ingredients with a wooden spoon until the batter comes together. If you prefer you can mix with a hand mixer or in a stand mixer.
Step Four: Next, add in the espresso beans, if using.
Expert Tip: If you decide to use another type of mix-in now is the time to add it!
Step Five: Line two cookie sheets with parchment paper and preheat the oven to 350. Using a small cookie scoop portion out 24 balls of cookie dough. Make sure they are about 2-3 inches apart. You will have about 12 cookies on each of the two baking sheets. The coffee cookies spread quite a bit while baking.
Step Six: Finally, bake the coffee cookies in the oven at 350 for about 12 minutes. The edges will turn golden brown. Cool the baked cookies completely on a wire cooling rack. Store cookies in an airtight container at room temperature for 3-4 days, in the fridge for up to 2 weeks, or in the freezer for 3-4 months.
Variations
Chocolate Chips – Add some semi-sweet chocolate chips, dark chocolate chips, or even white chocolate chips in place of or in addition to the espresso beans.
Instant Espresso – For a stronger coffee flavor use instant espresso granules instead of instant coffee granules.
Spices – Cinnamon, nutmeg, or pumpkin pie spice are excellent added to these cookies. You can make them taste like your favorite pumpkin spice latte. Half a teaspoon of your choice of spice should be perfect.
Caramel – Add some caramel chunks to the coffee cookie batter before baking.
Frosting – Add a coffee buttercream in between two cookies for an amazing sandwich cookie.
Mocha – Swap out some of the flour for cocoa powder to make mocha cookies.
Edible Cookie Dough – For a unique edible cookie dough option just leave out the egg and enjoy balls of this sweet dough.
Common Questions
Do coffee cookies have caffeine?
The depends. It is easy to use a decaf instant coffee powder but you might have a hard time finding decaf chocolate espresso beans. You can just use the decaf coffee granules and omit the beans to make sure this treat is suitable for a nighttime treat.
What is the best cookie with coffee?
There is no definitive answer to this question as it depends on personal preferences. Some people might prefer a sweeter cookie with their coffee, while others might prefer a more savory option. Ultimately, it is up to the individual to decide what they believe to be the best cookie to pair with coffee.
We love going for the ultimate coffee experience and serving coffee cookies along with some coffee!
What is the difference between instant coffee and instant espresso?
Instant espresso powder is a coffee beverage made from coffee beans that have been pre-ground and packaged into serving size. The coffee is brewed by adding hot water to the grounds and then filtering the mixture through a coffee filter. The resulting coffee is typically weaker in flavor than traditional espresso but has a more intense flavor than regular drip coffee.
Similarly, Instant coffee granules are a type of coffee that is brewed by mixing hot water with coffee that has been ground into a powder. The granules dissolve in the water, creating a cup of coffee that is ready to drink. Instant coffee is convenient because it does not require any brewing time, but it can sometimes lack the flavor and richness of freshly brewed coffee. We generally only drink coffee brewed from ground coffee in our house and use instant coffee in baking and other recipes.
Like what you see? Follow us on Facebook and on Instagram! Love this recipe? Leave a comment & a 5-star rating right here! Make sure you don't miss new recipes by getting email updates!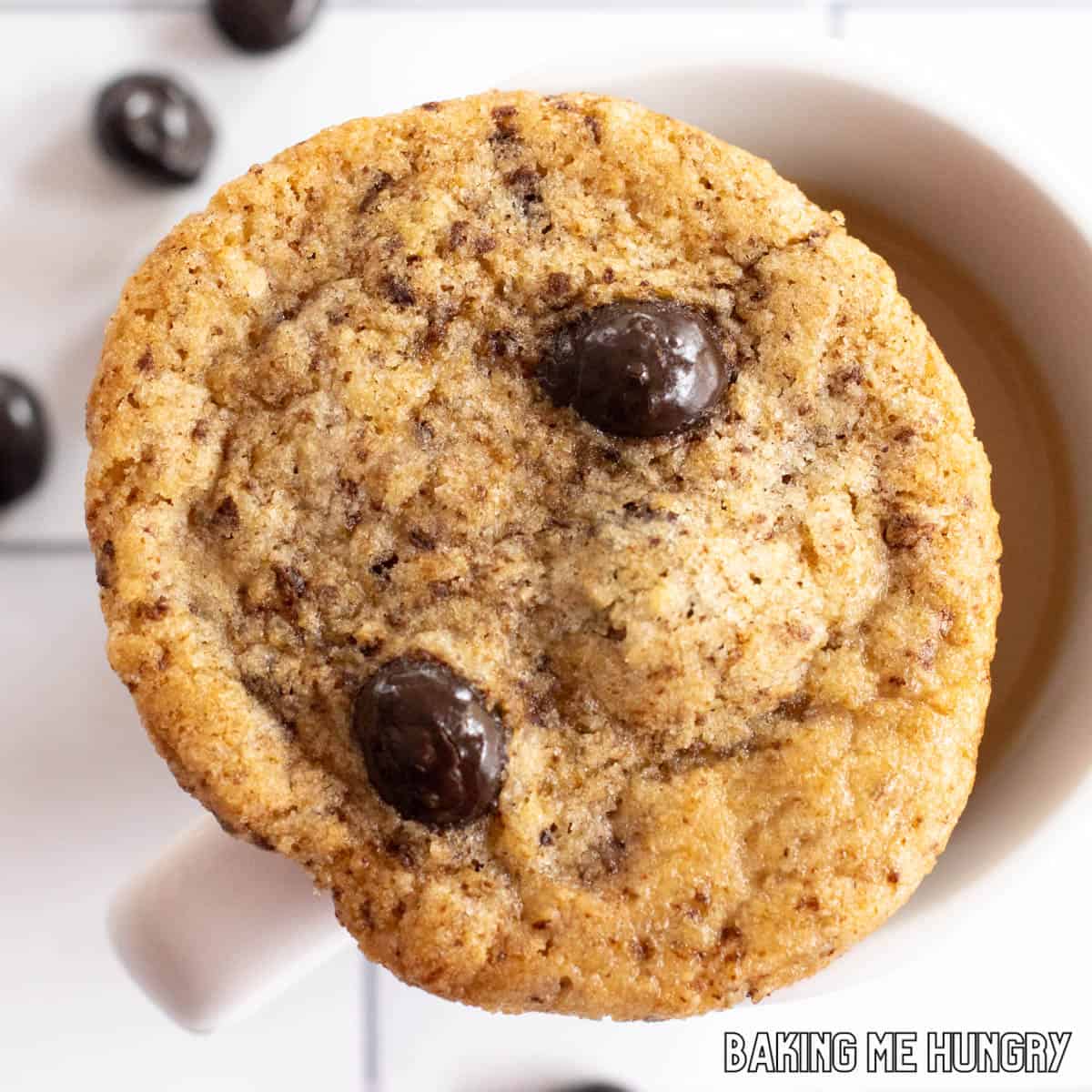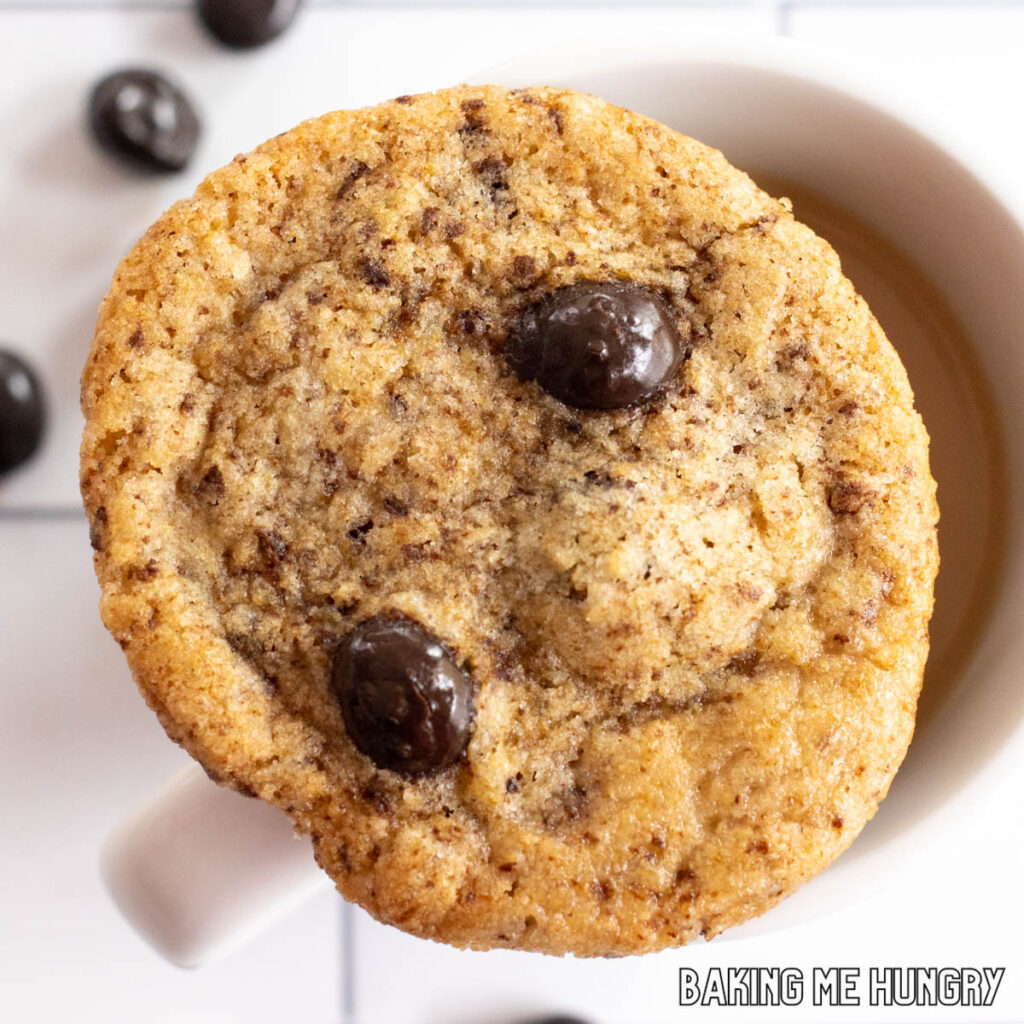 Ingredients
¾

cup

sugar

¾

cup

flour

2

tablespoon

brown sugar

2

tablespoon

instant coffee

¼

teaspoon

baking soda

¼

teaspoon

salt

⅓

cup

canola oil

1

egg

½

teaspoon

vanilla

½

cup

chocolate covered espresso beans

optional
Instructions
Preheat the oven to 350. Line 2 large cookie sheets with parchment paper.

In a large bowl stir together the flour, sugars, instant coffee, baking soda, and salt.

Add the egg, vanilla, and oil. Mix until smooth.

Stir in the chocolate-covered espresso beans, if using.

Scoop 24 cookies, three inches apart.

Bake for 12-13 minutes, until golden brown around the edges. Let cool completely.
Notes
Storage: Keep cookies in an airtight container at room temperature for a couple of days, in the refrigerator for two weeks, or in the freezer for three months.
Nutrition
Serving:
1
cookie
|
Calories:
93
kcal
|
Carbohydrates:
12.6
g
|
Protein:
1
g
|
Fat:
4.4
g
|
Saturated Fat:
0.8
g
|
Polyunsaturated Fat:
0.9
g
|
Monounsaturated Fat:
2
g
|
Trans Fat:
0.01
g
|
Cholesterol:
7.3
mg
|
Sodium:
39.7
mg
|
Potassium:
35.2
mg
|
Fiber:
0.4
g
|
Sugar:
8.7
g
|
Vitamin A:
9.9
IU
|
Calcium:
6.7
mg
|
Iron:
0.3
mg
Love coffee? Try these: