Love the idea of using your favorite cereals to make sweet treats? This Fruity Pebbles Ice Cream is one of the best! Every bite is creamy goodness bursting with that delicious fruity flavor!
It should come as no surprise that Fruity Pebbles tops the list as one of the most favorite breakfast cereals – and for good reason! Every bite is a fruity swirl of goodness in your mouth, which is what got me thinking about turning this tasty treat into an ice cream form. I mean, why not? All you need is a good basis for the ice cream mixture, which is exactly what you're getting on the recipe card below. After that, adding all the cereal pieces is a breeze.
I also love that using an ice cream machine gives this recipe the perfect creamy texture. It's a fun recipe, and the only thing needed is a handful of simple ingredients to make Fruity Pebbles ice cream. I think it's so much better than traditional ice creams – and I think you're going to really love this simple cereal treat! If you're a fan of fruity pebbles, you must make this!
If you have a sweet tooth like me, be sure to check out this Cookie Monster Ice Cream as well. Always a good choice – always!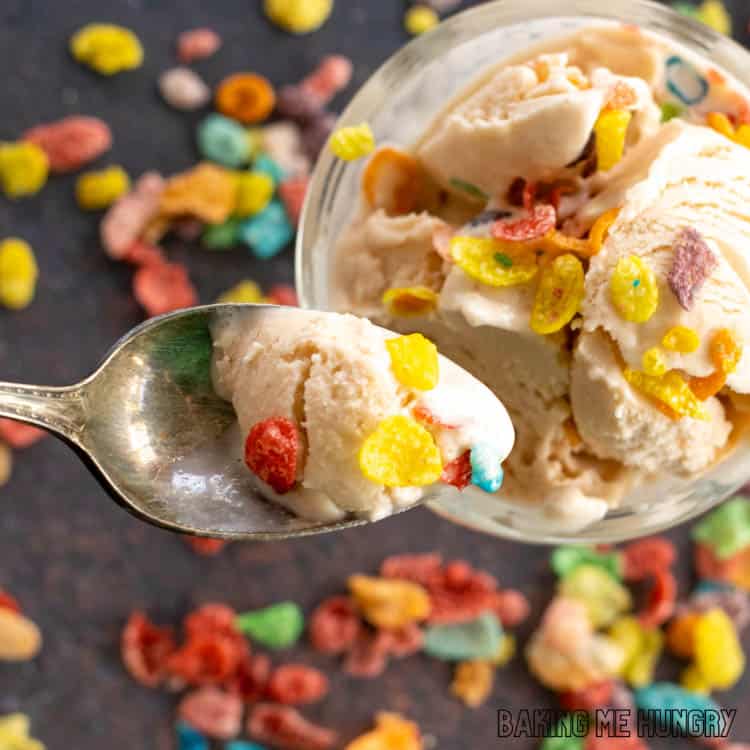 Ingredients
Fruity Pebbles – I usually just get the typical box of Fruity Pebbles with the classic flavor, but you can easily switch it up and have fun with it. A generic fruit crisp cereal can also work.
Whole milk – Whole milk is important to use. Don't use skim milk or lower fat milk because the fat content is important to creating a creamy ice cream base.
Heavy cream – Heavy whipping cream is needed to help make the rich flavor.
Egg yolks – Used to create the perfect ice cream flavor – plus added protein bonus!
Sugar – I use less sugar in this than my other ice cream recipes because the cereal will add some sweetness.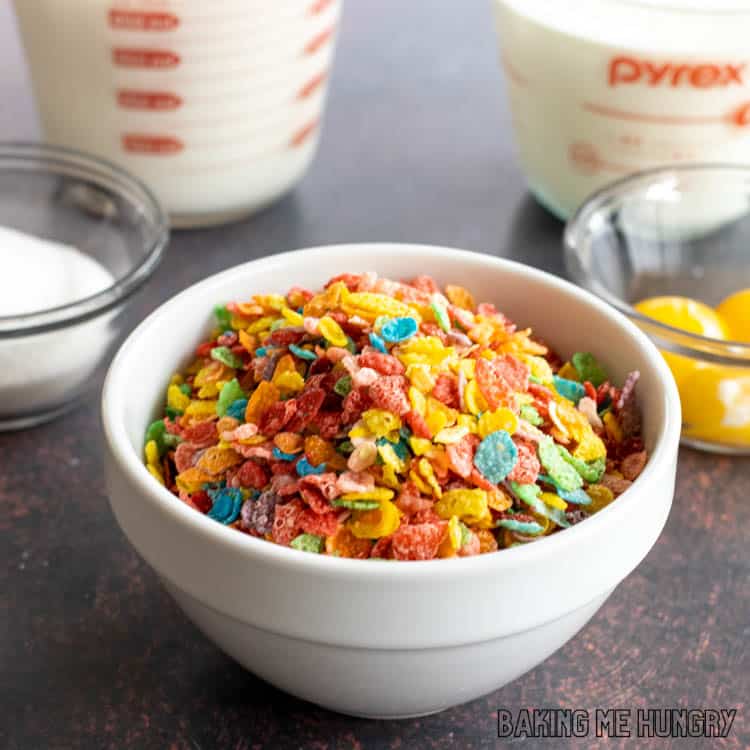 How to make Fruity Pebbles Ice Cream
Step One: Add the milk to a small pan and warm it on the stove. Only warm until the milk is simmering, and then turn off the heat and add the cereal. Let the mixture steep for 10 minutes.
Step Two: Strain the cereal mixture with a fine mesh sieve and get rid of the mushy cereal. Those delicious fruity crisp pieces lose their flavor and turn to mush. You can just discard this.
Step Three: Add all the ingredients to a blender and blend well.
Step Four: Put the mixture in the refrigerator and chill for 2 hours. The ice cream is too warm to add directly to the ice cream maker.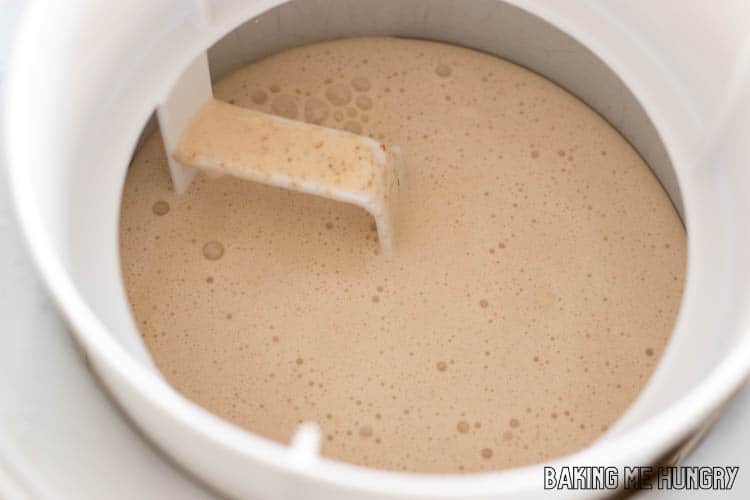 Step Five: Put the mixture into the ice cream machine and churn according to the manufacturer's directions. Serve the Fruity Pebbles ice cream immediately as soft serve right from the ice cream maker bowl or transfer to a freezer-safe container and freeze until firm enough to scoop. Sometimes I just add it to a loaf pan and cover with plastic wrap.
Variations
Use other cereals – The fun thing about making this cereal milk ice cream is that you can replicate this easy recipe with other cereals. If you want cocoa pebbles flavor, use that type of cereal as the key ingredient. You can also use Fruit Loops or any other sweet treat cereal that you want. It is fun to try with any favorite breakfast cereal. Cap'n Crunch is one of my favorites to use.
Use the ice cream for other desserts – Once the ice cream is made, you can scoop it and make fruity pebble ice cream sandwiches or even a fruity pebble crunch ice cream cake.
Add toppings – If you want to add more flavor to this recipe, you can add strawberry sauce or even melted white chocolate chips on top. Also, adding some new fruity pebbles on top for a crispy taste is delicious, too. I recommend garnishing with the cereal instead of mixing it in because it will lose that crisp rice texture if it is mixed in.
Common Questions
How do I prevent the homemade ice cream mixture from freezer burn?
The biggest thing to remember is that once you make the ice cream, you need to be sure that you're storing it in the correct container. This way, it will freezer and be stored properly so that you can scoop and serve.
What does fruity pebble ice cream taste like?
It has all the fruity flavors of the cereal! In my opinion, if you are a huge fan of fruity pebbles this is the best way to combine that flavor and taste with the sweetness of ice cream. The beautiful thing about this homemade ice cream base is that it always yields great results.
And if you're a sharer on social media, this is one recipe that people go crazy for!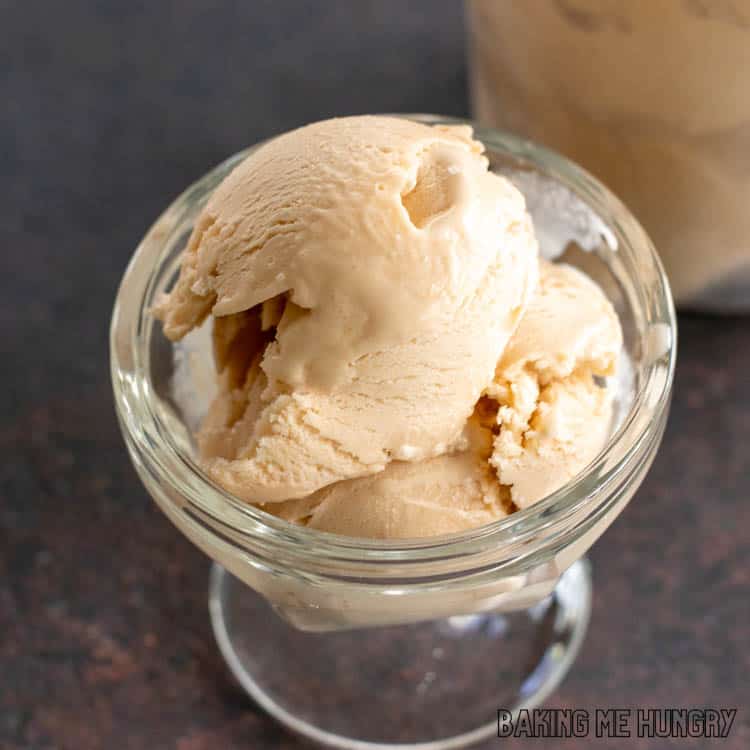 How do I serve homemade ice cream?
Once the ice cream has hardened, use an ice cream scooper and fill your favorite dish! Enjoy every bite!
What are the best toppings for cereal based ice cream?
I really think that the best toppings for ice cream made from cereal are more cereal! I love the crunch and crisp, fruity pieces, and it really just adds more color and flavor.
Ingredients
2

cups

fruity pebbles

2

cups

whole milk

1.5

cups

heavy cream

3

egg yolks

⅓

cup

sugar
Instructions
Warm the milk in a small saucepan until it begins to simmer. Turn off the heat and add the cereal. Let steep for 10 minutes.

Strain the cereal from the milk using a fine mesh sieve. Discard the mushy cereal.

Add all the ingredients to a blender. Blend until smooth.

Chill the ice cream base for at least 2 hours.

Transfer to an ice cream machine. Churn according to the manufacturer's instructions. Enjoy immediately as soft serve or transfer to a freezer container and freeze until firm enough to scoop.
Nutrition
Calories:
282.3
kcal
|
Carbohydrates:
21.3
g
|
Protein:
4.8
g
|
Fat:
20.3
g
|
Saturated Fat:
12.4
g
|
Polyunsaturated Fat:
1.1
g
|
Monounsaturated Fat:
5.3
g
|
Trans Fat:
0.01
g
|
Cholesterol:
130.6
mg
|
Sodium:
91.7
mg
|
Potassium:
148.6
mg
|
Fiber:
0.1
g
|
Sugar:
16
g
|
Vitamin A:
1102.1
IU
|
Vitamin C:
2.5
mg
|
Calcium:
115.2
mg
|
Iron:
0.9
mg