Cookie Monster Ice Cream is the best! Chopped cookies mixed with vanilla ice cream create the perfect sweet treat that tastes like it is from the ice cream shop with only a few minutes of work. This simple ice cream recipe is any cookie lover's dream!
When it comes to cookie ice cream, I have never found one at the store that was exactly what I was looking for. They always have the wrong types of cookies mixed with the wrong type of ice cream, and I was tired of the search. I decided it was time to take my favorite cookies and combine them with a few other simple ingredients – and just like that, this no churn cookie monster inspired ice cream was created.
Do I count this as a homemade ice cream recipe? Not really, since the ice cream mixture is being combined with cookie pieces, but I do count it as semi-homemade. And a creamy ice cream recipe that anyone can make at home!
When you can create a flavor like this without the need for an ice cream machine, why not? The flavor and taste of this simple ice cream recipe are the best!
Be sure to check out my Black Forest Ice Cream for another fun flavor and taste! You can never have too many different ice cream options!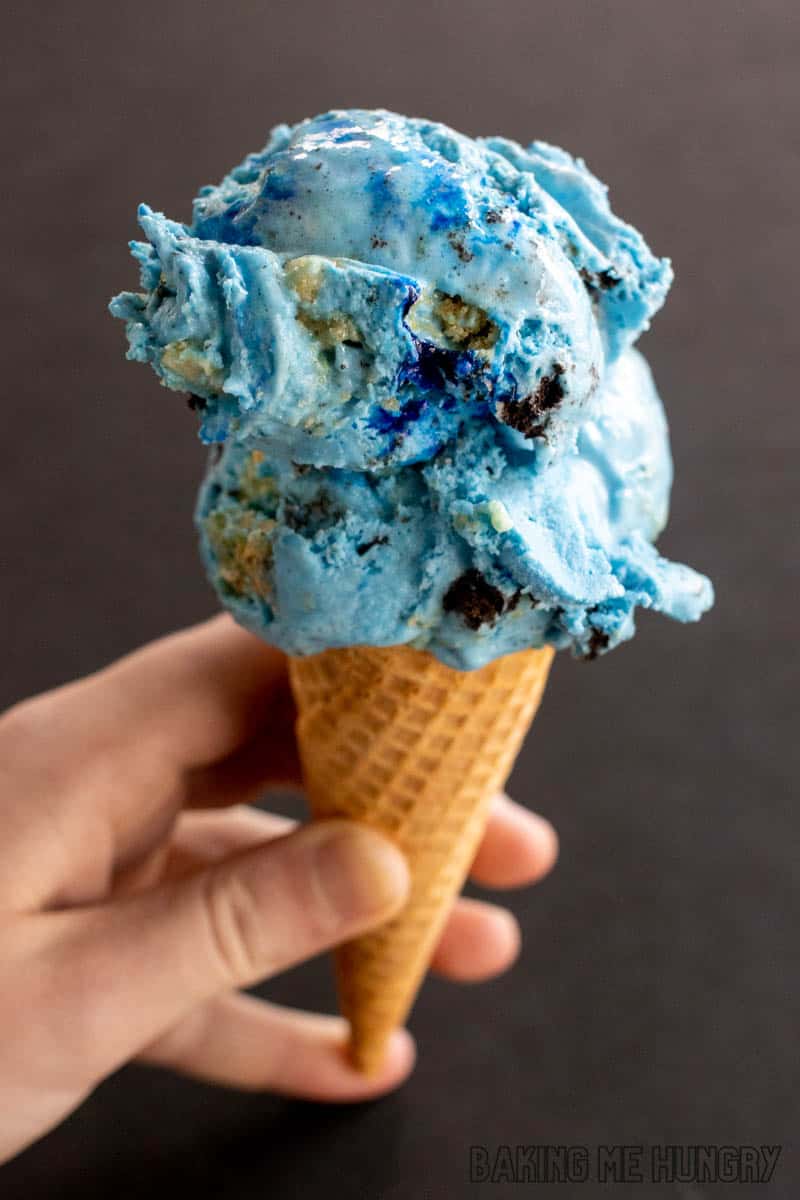 Ingredients
Vanilla ice cream – You can choose your favorite type of ice cream from the store.
Blue gel food coloring – Using gel food coloring does a great job of dispersing evenly throughout the mixture.
Oreo cookies – Chopped into pieces – but not too small.
Golden Oreo cookies – Chopped and added. You can also add double-stuffed Oreos of both kinds, too.
Chocolate Chip Cookies – Choose your favorite brand or homemade recipe and chop a few up. We used our Chocolate Chip Marshmallow Cookies!
How to make Cookie Monster Ice Cream
Step One: Start by grabbing a container of your favorite vanilla ice cream. Add the blue gel food coloring and stir to turn the ice cream blue.
Step Two: Then, take the Oreo cookies and chop them into pieces. You can use a blender or a food processor or add them to a sealable bag and use a rolling pin to chop them up.
Step Three: Add the cookies to the ice cream base, and stir to combine.
Stir well. Serve and enjoy!
Pro Tip: Return the ice cream to the original container that it comes in so that you can keep it freezer-safe!
Variations
Make one of your own homemade ice cream recipes – If you have an ice cream maker, you can make your own ice cream to use as the base. Then you would just add blue food coloring to turn it blue. You can also make no churn ice cream by whipping heavy cream until stiff peaks form and then folding in sweetened condensed milk and a dash of vanilla extract.
Add more sweet ingredients – You can add chocolate chips, hot fudge, sprinkles, marshmallow fluff, or even a scoop or two of frosting to the vanilla ice cream base. Don't forget to add some whipped cream and a few chunks of Oreos on top as well.
Use homemade cookies – If you don't want to add Oreos, don't add them. Make a batch of homemade cookies and use them instead. You can also add homemade edible cookie dough (as long as it's safe to eat raw!) to this mixture, too. Homemade cookie monster cookies are really fun to add!
And if you don't want to use homemade chocolate chip cookies like we did, you can easily add store-bought ones like Chips Ahoy cookies!
Common Questions
What is the best way to serve this ice cream?
You have so many delicious options on ways to enjoy it! You can eat it out of a large bowl, make an ice cream sandwich with it, or use an ice cream scoop and eat it from ice cream cones.
Is there another way to get the blue color into the ice cream?
Since this is a no churn vanilla ice cream base, you just need to add food coloring, or gel food coloring to get that bright blue look. You can also buy blue vanilla ice cream at the store – so keep your eyes looking for that the next time that you go! You can use natural food coloring if you prefer.
What are fun ways to share this ice cream recipe with others?
If you are looking for a simple and fun dessert recipe for parties, this is it! This would be super cute to make and add to a Sesame Street-themed party! The kids would love knowing that they could have a giant scoop of Cookie ice cream stacked high in a cone, or in a bowl. Don't forget to add the toppings to the top of the ice cream and you're all set! You can't go wrong with these options!
Like what you see? Follow us on Facebook and on Instagram! Love this recipe? Leave a comment & a 5-star rating right here! Make sure you don't miss new recipes by getting email updates!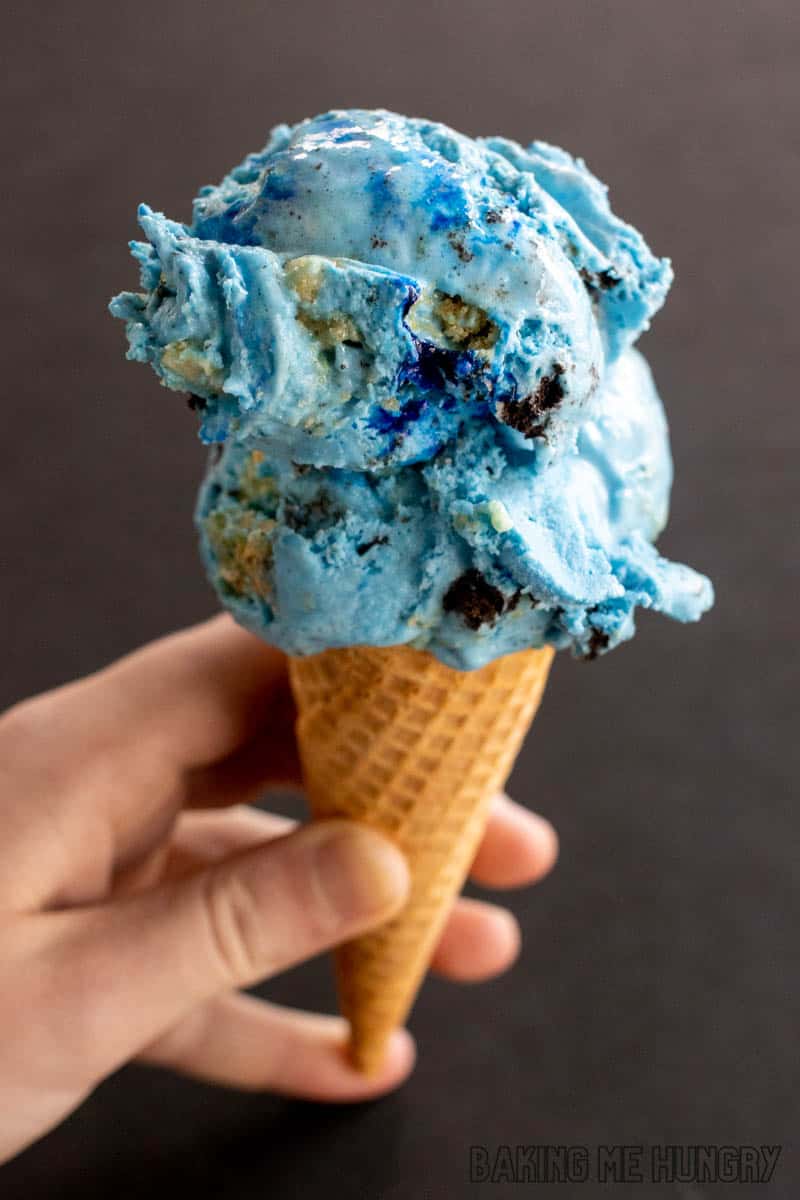 Ingredients
1

qt

vanilla ice cream

1

teaspoon

blue food coloring gel

5

Oreos

chopped

5

Golden Oreos

chopped

3

chocolate chip cookies

chopped
Instructions
Let the vanilla ice cream sit out for a few minutes to soften.

Fold in the food coloring gel until the ice cream is uniformly blue.

Transfer back to the ice cream carton or another freezer-safe container.

Freeze until firm enough to scoop, about 2 hours.
Notes
Ice Cream - Choose a vanilla ice cream with a strong vanilla flavor for the best results. We actually use Great Value brand vanilla bean ice cream from Wal-mart and it works really well in this.
Nutrition
Calories:
336.6
kcal
|
Carbohydrates:
41.4
g
|
Protein:
5.1
g
|
Fat:
16.9
g
|
Saturated Fat:
9.1
g
|
Polyunsaturated Fat:
1.7
g
|
Monounsaturated Fat:
5.1
g
|
Trans Fat:
0.02
g
|
Cholesterol:
52.4
mg
|
Sodium:
167.6
mg
|
Potassium:
267.3
mg
|
Fiber:
1.3
g
|
Sugar:
32.4
g
|
Vitamin A:
498.2
IU
|
Vitamin C:
0.7
mg
|
Calcium:
155
mg
|
Iron:
1.2
mg