Made with just three simple ingredients, these Mango Popsicles are a refreshingly delicious treat. Perfect for a hot summer day or a great way to add some tropical flavor at any time of the year. Excellent dessert for kids and adults!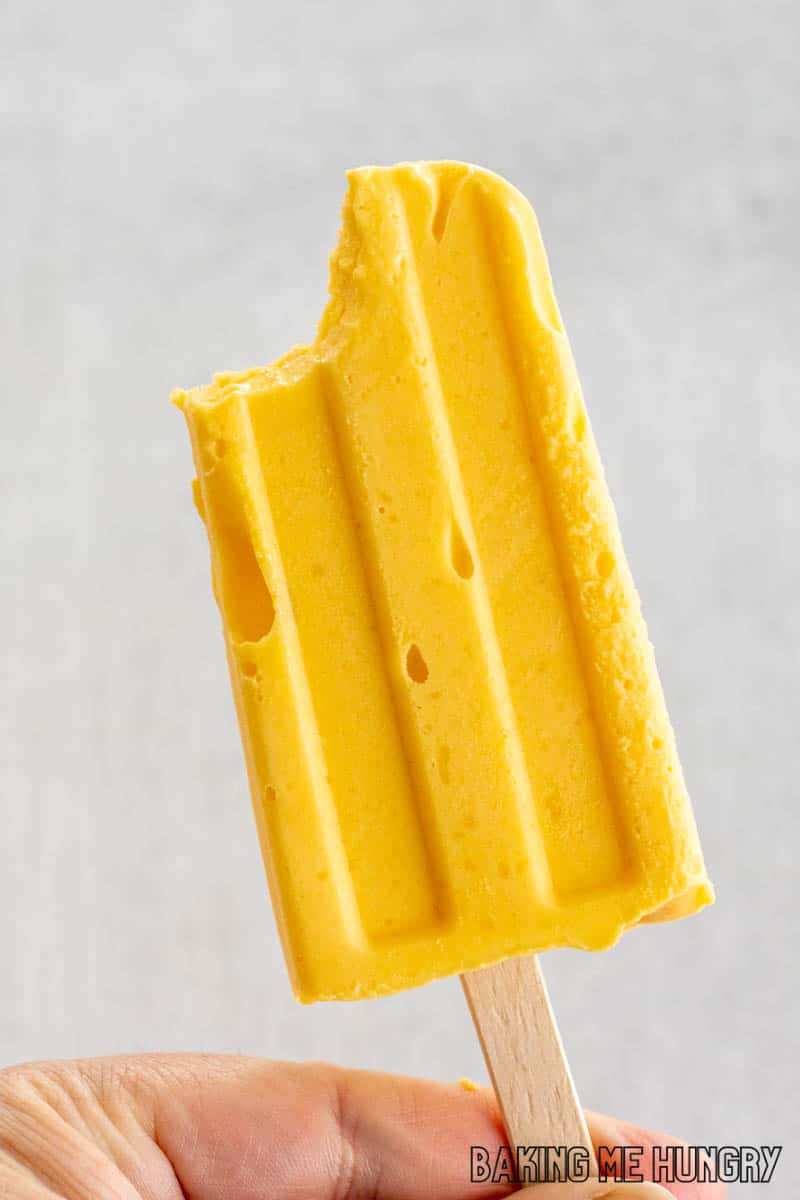 I love a good popsicle. I'm all about reverting to the child in me and putting up my feet to relax with a popsicle. The flavor of frozen mangos is sweet and delicious. Plus, making homemade popsicles is just super fun to make!
There's a reason why popsicles are a perfect summer treat. Because every bite is refreshing and naturally sweet, making you crave even more.
Since all you really need to get started are three ingredients and a popsicle mold, this is a fast and easy mango popsicle recipe that takes minimal time to make. The hardest part is waiting for it to be ready in the freezer!
Speaking of simple desserts, be sure to check out my Passion Fruit Ice Cream. An excellent texture and a sweet flavor that you can easily share with family and friends.
Ingredients
Mango pulp – You can make your pulp at home by putting mango chunks and mango juice in a blender or food processor. You can also purchase pulp at the store. The one I use is canned and sweetened. If you use fresh mango you may need to add sugar.
Cream Cheese – Helps to thicken and add texture to the popsicles.
Heavy Cream – Adds richness. You can also use coconut milk, too.
How to Make Mango Popsicles
Follow the simple instructions below to make these easy mango ice pops. Be sure to scroll down to the recipe card below for information on calories, carbohydrates, and more.
Step One: Whip the heavy cream until stiff peaks form. Put that into a bowl.
Step Two: In a different bowl, whip the mango pulp and cream cheese until fluffy. Add the heavy cream and mix well.
Step Three: Fold in the remaining whipped heavy cream slowly. Put the mixture into the molds.
Variations
Here are a few options that can be done to change the taste and texture of these popsicles. All are optional so have fun!
Add honey – You can add more natural sweetness by adding a bit of honey, Honey Lavender Syrup, or maple syrup.
Change the flavor – Since this popsicle recipe is so simple, try and make it with a different fruit. Excellent options are strawberry, pineapple, blueberry, and more. Squeeze in a little bit of lime juice for flavor.
Add lemon juice – Citrus is a good balance with the sweet!
Add almond milk – A splash of almond milk is great for adding protein and calcium and thinning out the popsicle mixture a bit as well. Almonds are a great source of fiber, too.
Stir in Greek yogurt – A little bit of yogurt is a good mix-in as well.
Common Questions
Are mango puree and mango pulp the same?
They're similar but not exact—the difference between the two lies in their texture. The puree is thinner, while the pulp may have a few larger pieces or chunks of mango.
This recipe calls for pulp, but if you make your own and pulse it for too long, you will have a puree. But don't worry, that will still work this recipe – it'll just have a thinner texture.
Can I freeze this in a container instead of a popsicle mold?
You can. While it won't have the texture of ice cream per se, you can absolutely make this in a larger quantity and freeze it in a freezer-safe container.
Once you blend it, you pour it into that instead of into popsicle molds.
Also, freezing in a larger capacity may make the freezing process longer than freezing into popsicles. Just be patient – it's worth the wait!
When do I add the popsicle stick?
Once you pour the mixture into the molds, put the popsicle stick in then as well. Put it in the middle so that it freezes evenly and balances.
I keep a supply of popsicle sticks in the house for this reason! Not only do they come in handy for homemade popsicles, but they're also handy for craft activities, too. Versatility as its finest!
Other Mango Desserts:
Mango Mousse – Need another gluten free option that everyone will love? This simple mousse recipe is a great dish that is full of nutrition. The mango pulp adds a natural sweetness that is perfect for any time of the day.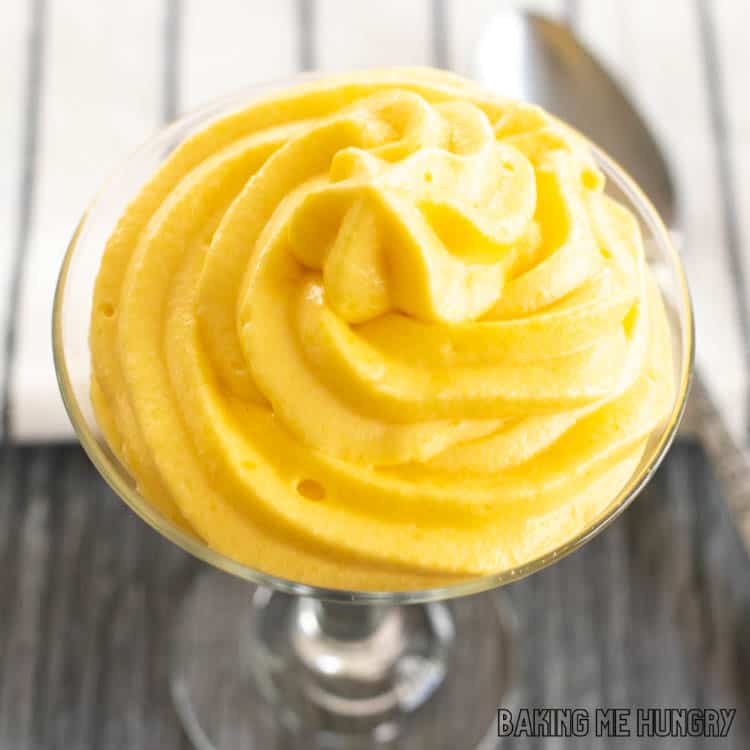 Mango Pudding – Eating this sweet and tart pudding is a great way to end the day. Skip the processed options, and make this naturally delicious dish!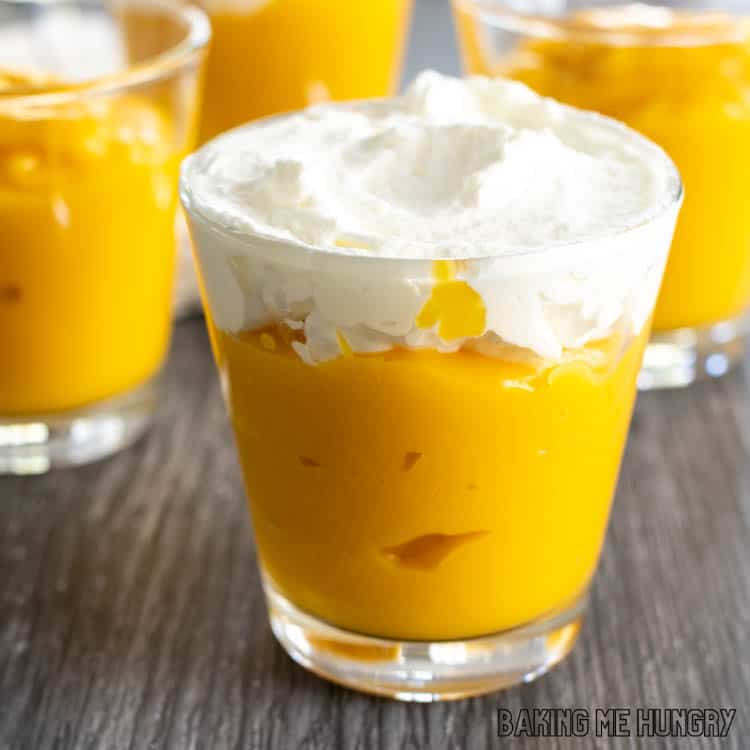 Like what you see? Follow us on Facebook and on Instagram! Love this recipe? Leave a comment & a 5-star rating right here! Make sure you don't miss new recipes by getting email updates!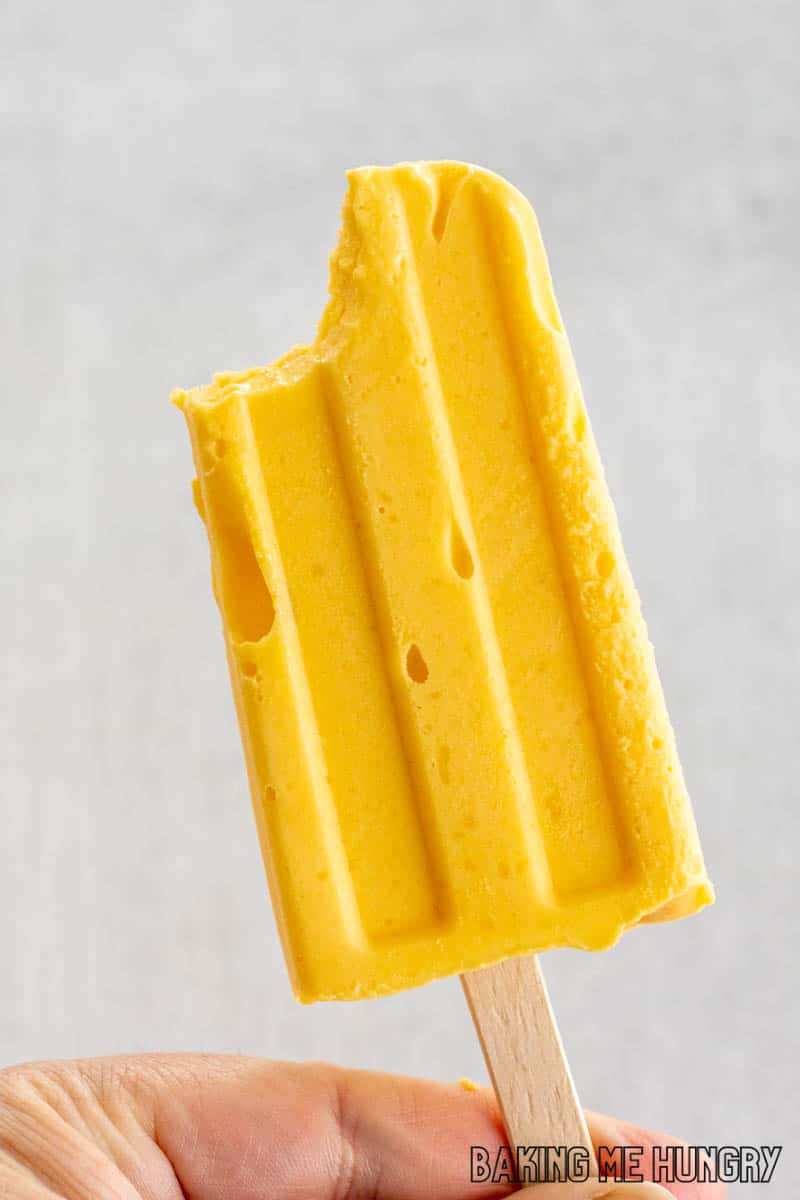 Ingredients
1

cup

mango pulp

sweetened

1

cup

cream cheese

½

cup

heavy cream

or coconut milk
Instructions
Whip the heavy cream until stiff peaks form. Transfer to a separate bowl.

Whip the cream cheese and mango pulp until light and fluffy. Add the cream and mix well.

Slowly fold in the remaining whipped cream. Transfer to popsicle molds.
Notes
Nutrition: The nutrition facts are for 1 popsicle. This should make approximately 6 pops depending on your mold.
Mango Pulp: Mango pulp is sweetened. If you use mango puree instead you will want to add powdered sugar. I recommend starting with ½ cup and then adding more to taste.
Nutrition
Serving:
1
pop
|
Calories:
238
kcal
|
Carbohydrates:
11.7
g
|
Protein:
3.1
g
|
Fat:
20.3
g
|
Saturated Fat:
12.2
g
|
Polyunsaturated Fat:
0.9
g
|
Monounsaturated Fat:
5.2
g
|
Cholesterol:
60.6
mg
|
Sodium:
133.2
mg
|
Potassium:
68.8
mg
|
Fiber:
0.2
g
|
Sugar:
10.3
g
|
Vitamin A:
1743.7
IU
|
Vitamin C:
5.5
mg
|
Calcium:
53.7
mg
|
Iron:
5
mg