Experience the magic of delicate Mini Meringues that melt in your mouth. Irresistibly light and airy, these tiny delights will leave you craving more. Mini meringue cookies just might be the perfect dessert!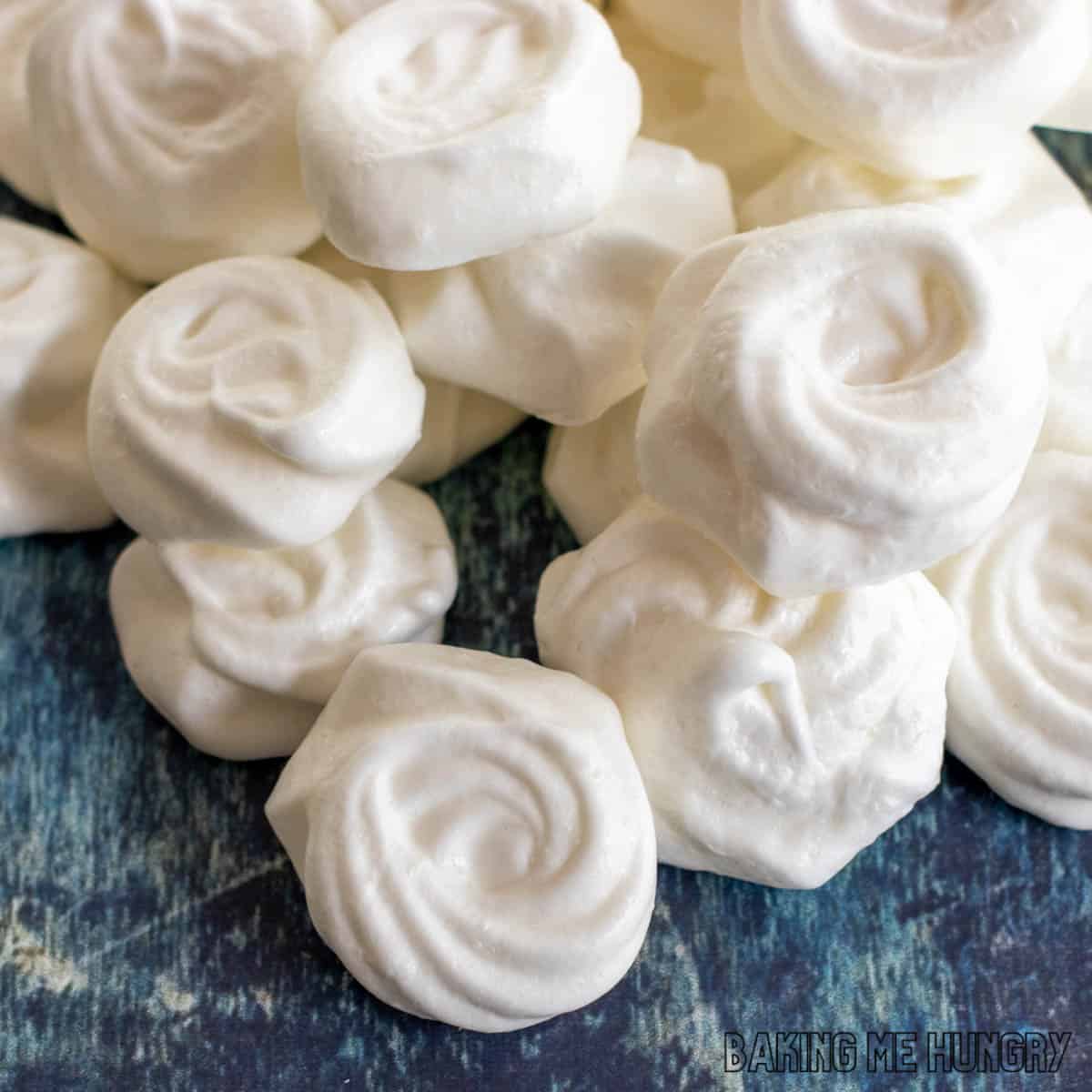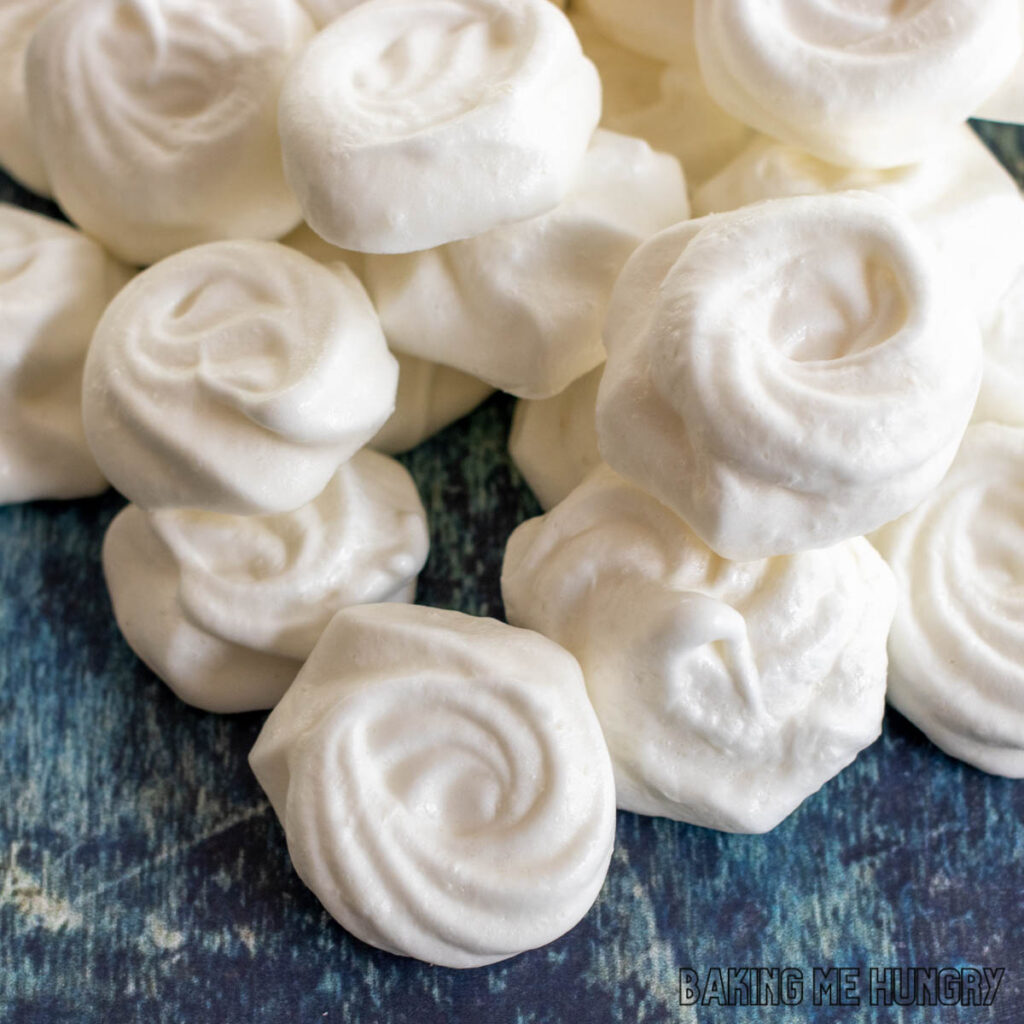 What I love about making these mini meringue cookies is that they're quick and simple to grab and pop right into your mouth. They're not overly sweet, and they have the perfect delicate texture. This classic recipe is one that can be a small-batch recipe or duplicated to make a big batch of sweet treats for family and friends.
You can easily make these crispy meringue cookies a couple of days ahead of time or fresh to enjoy right then and there. These really are easy cookies that will turn out delicious each and every single time that you make them. They're a rich and creamy dessert that feels like they melt on the tip of your tongue.
Be sure to check out my Vanilla Muffin Recipe for another light and delicious recipe with that addictive vanilla flavoring.
Ingredients
Egg whites – Egg whites are what make these meringue treats light and yummy. It is important not to get any of the egg yolks in the egg white mixture or it will not whip up. Keep the rest of the egg and use an omelet!
Cream of tartar – This is a must-have ingredient and key to making the meringue texture light and airy.
Salt – Just a pinch of salt is needed. The addition of salt balances the sweetness of the sugar.
Sugar – To add sweetness.
Vanilla extract – Used to add the perfect hint of vanilla.
How to make Mini Meringues
This is a step to step pictorial guide to help you can the best results. The complete recipe, including measurements, is below the photos in the recipe card.
Step One: Preheat the oven to 225 degrees. Add parchment paper to the baking sheet.
Step Two: Mix the egg whites, salt, and cream of tartar until it is foamy. It is easiest to do this in a stand mixer with the whisk attachment. Alternatively, you can use a large bowl and a handheld electric mixer.
Step Three: Increase the mixer speed to high, and then add the sugar slowly.
Step Four: Mix until soft peaks form.
Add the vanilla.
Expert Tip: This is also when you would add food colouring, if desired.
Step Five: Mix until stiff peaks form. You should be able to hold the whisk upright and have the peaks stand up.
Step Six: Put the mixture into a piping bag with a star tip.
Step Seven: Pipe the small rosettes onto the baking sheet. You can really pipe any shape you like.
Step Eight: Put the pan in the oven and bake for 1 hour.
Step Nine: Turn off the oven but leave the tray inside for another 1-2 hours or until the meringue is dried completely. Try not to open the oven.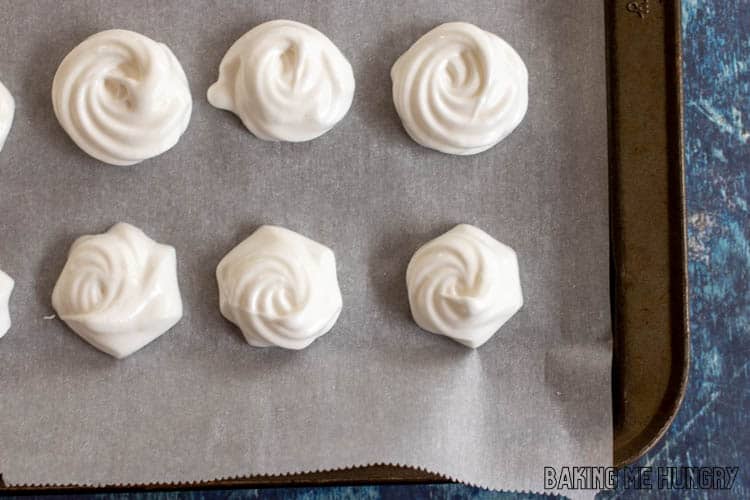 Variations
Vanilla bean paste – If you have some on hand sub this in place of the extract. You will see the tiny specks of vanilla bean in the cookies.
Make meringue nests – You can get that crunchy shell by making them in any shape. It doesn't have to be a star shape for the best results. You can even make mini pavlovas and add a fresh fruit filling.
Add gel food coloring – Using the fresh egg whites will ensure that these cookies are white in color, but adding some food coloring can be a fun twist.
Add toppings – While you do have to be really careful with this, you can add toppings to Italian meringues easily enough. Make them have a bigger base, and then add a few fresh berries and some whipped cream on top. Fresh strawberries and fresh blueberries are really good.
Common Questions
Why are my mini meringues chewy?
If the meringue mixture isn't mixed all the way until stiff peaks form, there is a chance that the cookies will not be the desired consistency that you're hoping them to be. Also, if there is excess moisture in the bowl or the air, you may end up with chewy or soft meringues as well. They're still delicious and edible, but they will lack that crunch and texture that everyone is hoping to find on the dessert table.
Why do you add sugar gradually to meringue?
The slow addition of the sugar is key to making sure that you're giving the sugar crystals a chance to dissolve. Adding all the sugar and then mixing at a high speed may result in the sugar not dissolving, giving meringue recipes a gritty texture.
How do I store leftover meringue cookies?
For the best texture and results, be sure to let the cookies cool to room temperature before adding them to an airtight container. You can keep them in the fridge and just enjoy eating them as you crave them. I tend to grab a handful of them every time I'm walking through the kitchen!
Keep in mind that this recipe makes a large batch of cookies, so it's best to make it when you know that you're going to be feeding a lot of mouths – or are really craving this sweet treat!
You can make this for weddings, birthday parties, holiday gatherings, baby showers, or have as a simple dessert option for family and friends who might be visiting for the weekend.
Like what you see? Follow us on Facebook and on Instagram! Love this recipe? Leave a comment & a 5-star rating right here! Make sure you don't miss new recipes by getting email updates!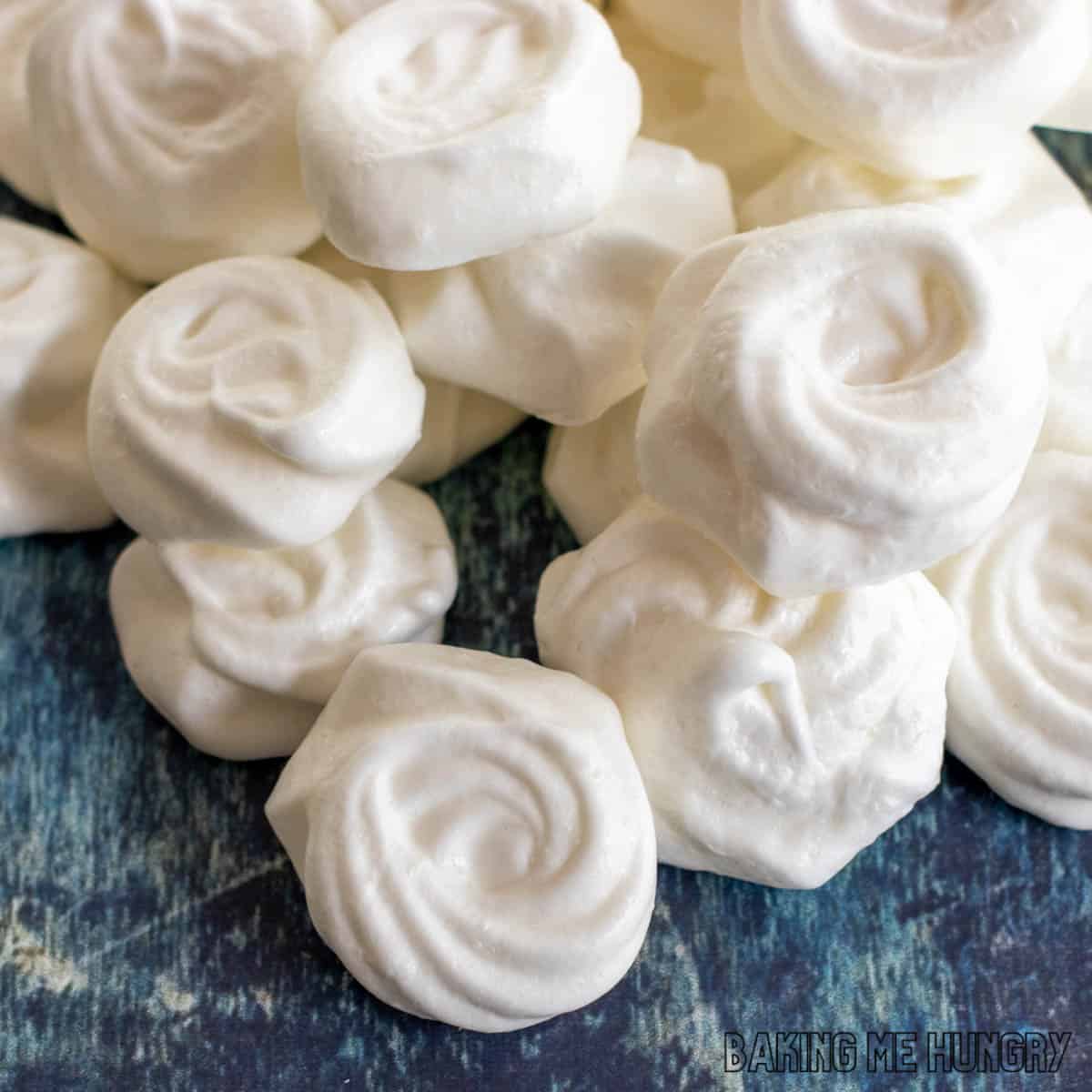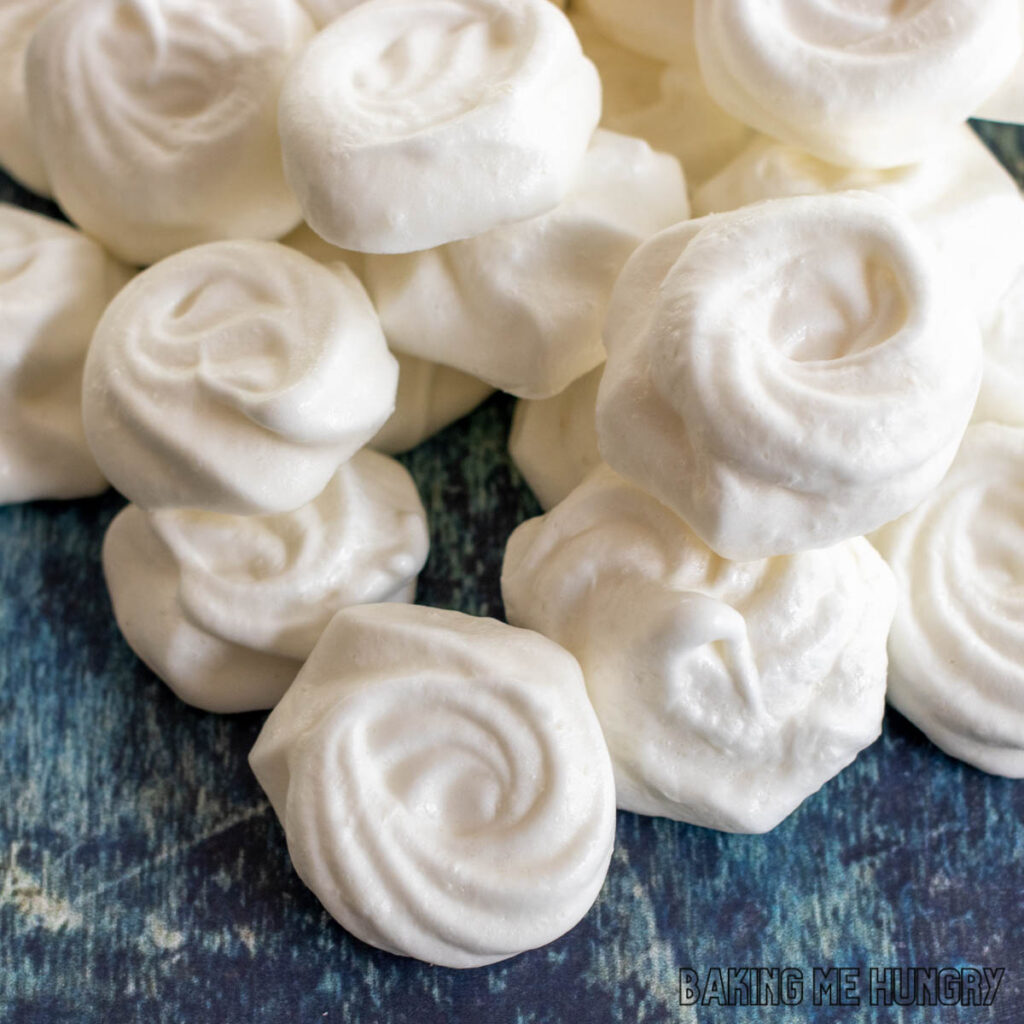 Ingredients
3

egg whites

¼

teaspoon

cream of tartar

pinch

of salt

¾

cup

sugar

½

teaspoon

vanilla
Instructions
Preheat oven to 225. Line a baking sheet with parchment paper.

Mix egg whites, cream of tartar, and salt until foamy.

Increase speed to high and slowly add sugar.

Mix until soft peaks form. Add the vanilla.

Mix until stiff peaks form.

Transfer to a large piping bag fitted with a star tip.

Pipe small rosettes onto the prepared baking sheet.

Bake for one hour.

Turn off the oven and leave the tray in the oven for an additional 1-2 hours or until the meringue cookies are completely dry.
Notes
Nutrition: This makes about 3-4 dozen mini meringue cookies. A serving size is 3 or 4 cookies.
Nutrition
Serving:
3
cookies (approx.)
|
Calories:
52.7
kcal
|
Carbohydrates:
12.6
g
|
Protein:
0.8
g
|
Fat:
0.1
g
|
Sodium:
12.6
mg
|
Potassium:
23
mg
|
Sugar:
12.5
g
|
Calcium:
0.7
mg
|
Iron:
0.01
mg