You're about the be the best baker on the block. Coffee Eclairs are delicious, and this easy-to-follow recipe will make you a baking pro! Perfect for dessert or a sweet snack for your sweet tooth.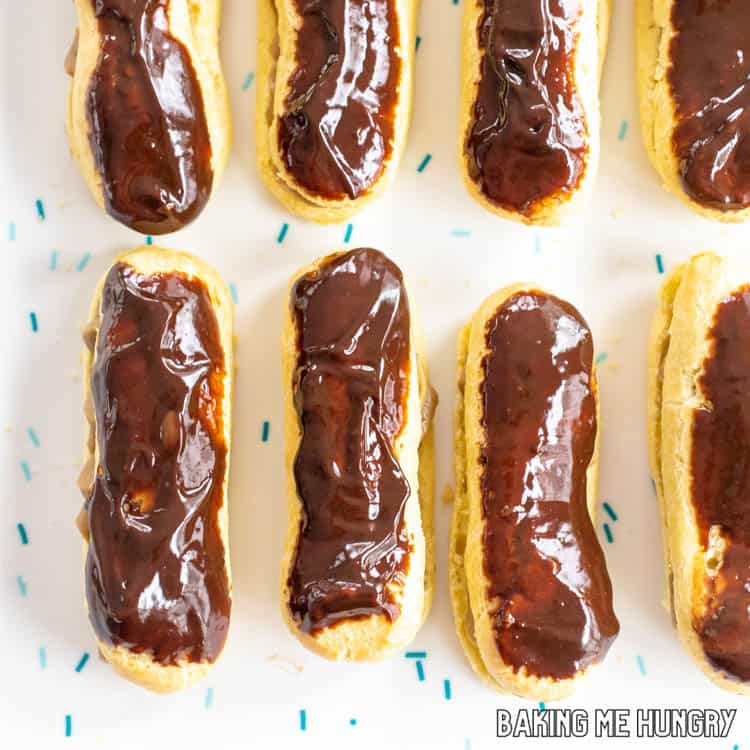 If you're a fan of all things sweet and treats like I am, then there's a good chance that you're a fan of eclairs. Now, I've had my fair share of eclairs from the store and bakeries, but I've decided that this recipe proves that I can make them at home just as delicious.
While there might be a few more ingredients and steps than my typical dessert recipes, don't stress because they're simple and easy to follow. And once you take your first bite of these homemade filled eclairs, you're going to be patting yourself on the back right away.
There's just something about the freshness of making this coffee eclairs recipe at home that will have you never buying them from the store again – and that, my friends, is a good thing!
Speaking of yummy desserts, be sure to check out my Mocha Iced Coffee Recipe for a fast snack idea! And pair with some Coffee Cookies for dessert.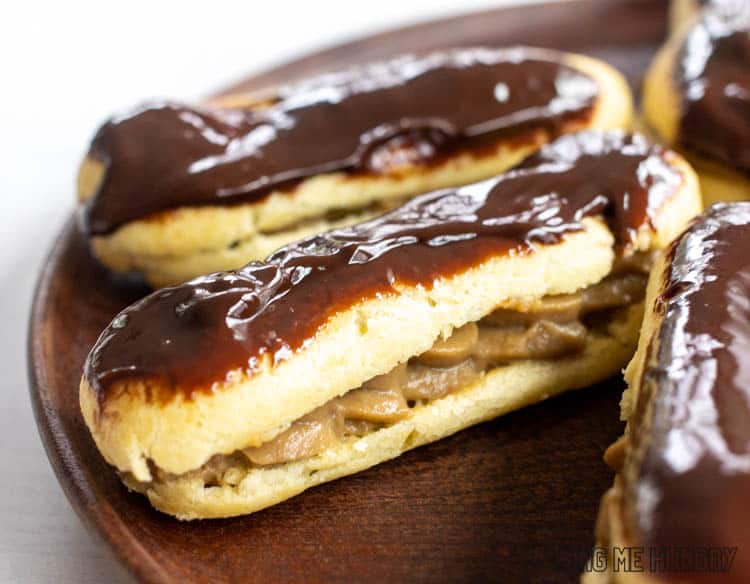 Ingredients
You'll be using a few of these ingredients in various parts of the recipe steps, from the pastry to the filling. See the recipe card below for details and measurements.
Water – Room temperature is fine.
Whole milk – Adds richness and flavor.
Salted butter – Salted butter adds a good flavor to the pastry.
Granulated sugar – Adds sweetness.
Flour – Needed to make the homemade pastry dough.
Eggs – Large eggs typically work best for baking.
Vanilla extract – Pure vanilla extract is my go-to choice.
Cornstarch – For the filling.
Egg yolks – Save the egg whites for another recipe.
Instant coffee – Instant coffee is a must so that it will dissolve.
Semisweet chocolate chips – You can use any type of chocolate chip that you have on hand.
Heavy cream – For flavor and texture.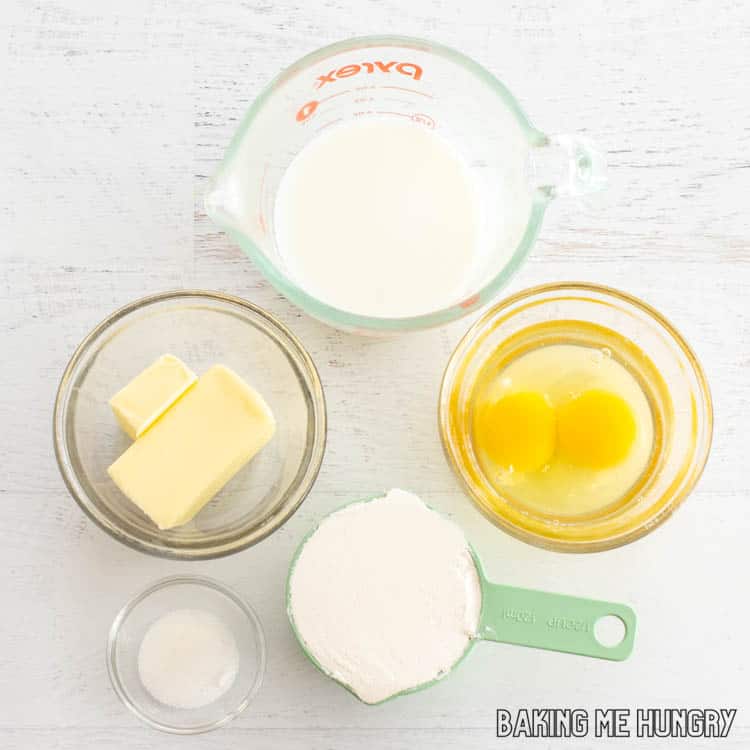 How to make Coffee Eclairs
To make the pastry:
Step One: Add parchment paper or use a silicone mat to line the baking sheet.
Step Two: In a small pan, combine the milk, water, butter, and sugar and bring to a boil. Remove from the heat and stir in the flour.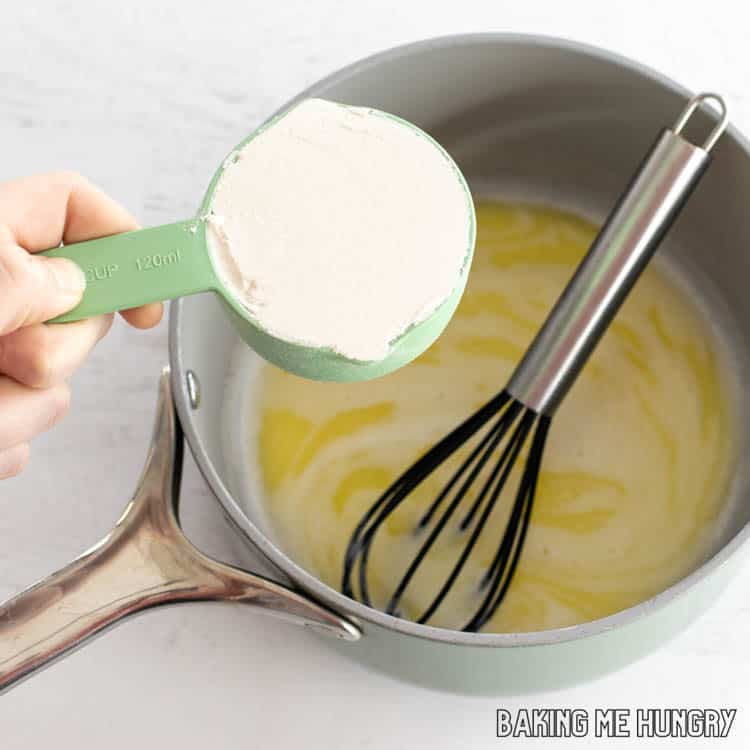 Step Three: Put it pan back on the stove and cook on medium until the dough forms.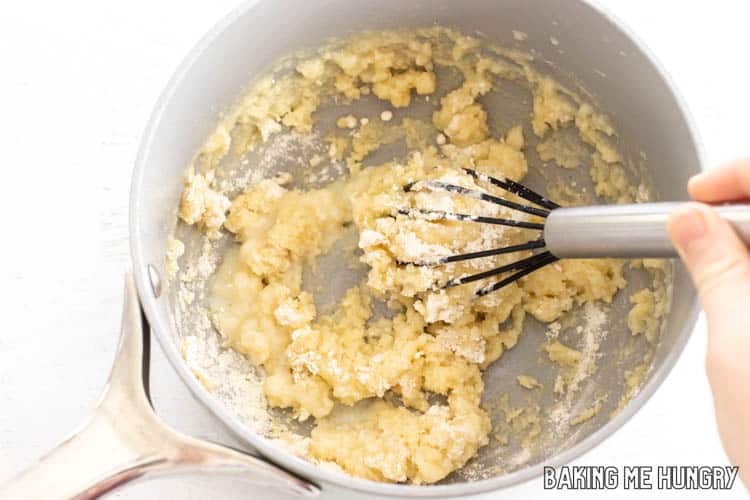 Step Four: Put the dough mixture into a mixing bowl and beat for 1 minute.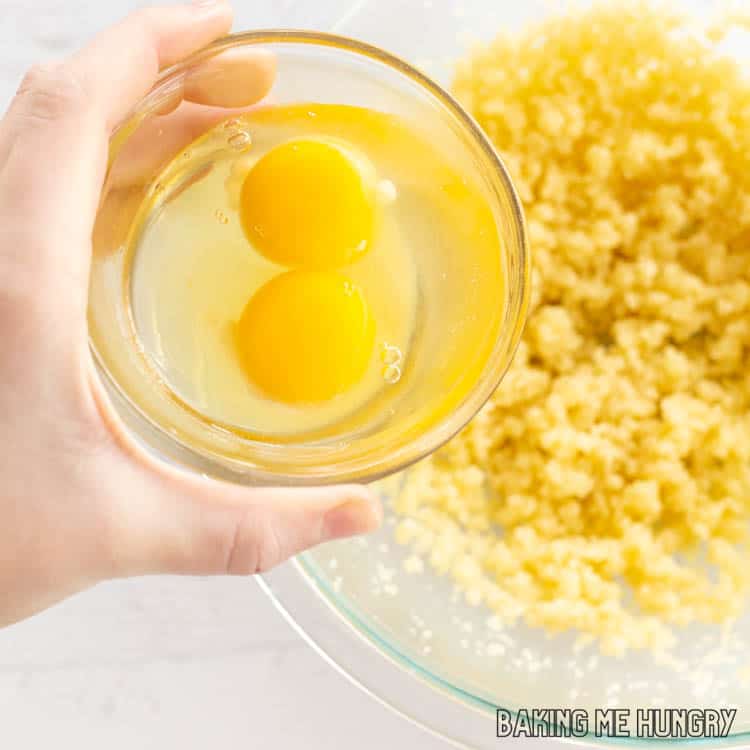 Add the eggs, one at a time.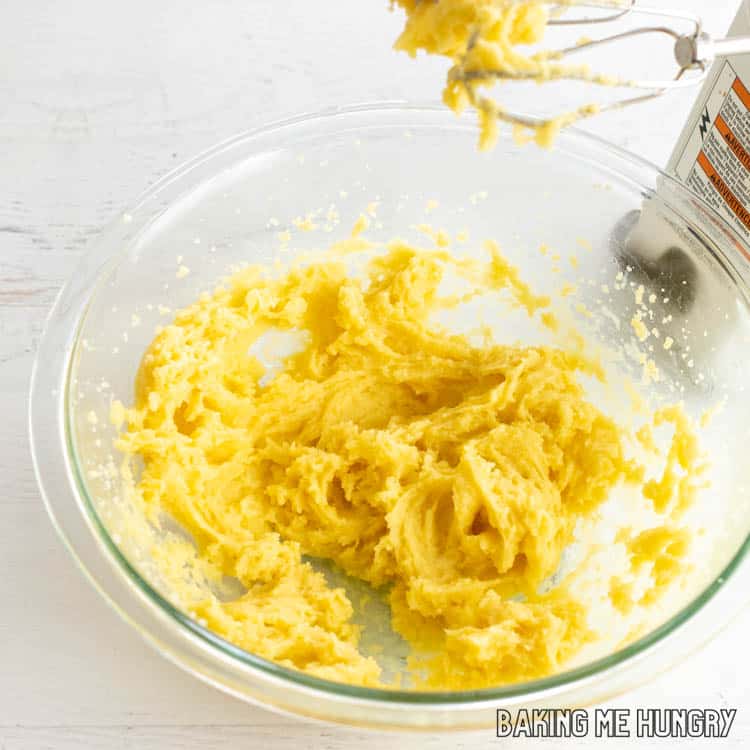 Step Five: Pipe the dough out onto the mat using a ½-inch round tip. You'll be making eight eclairs that are about 4 inches long.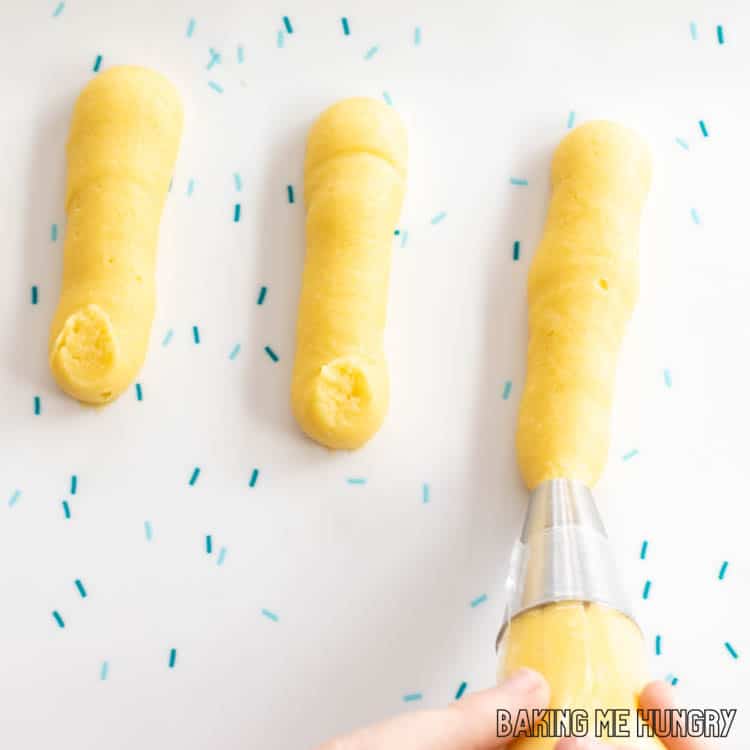 Step Six: Put the pan in the oven and bake for 10 minutes at 425 degrees. Don't open the oven. Reduce the heat to 325 degrees and bake for about 30 minutes. Let cool on a wire rack.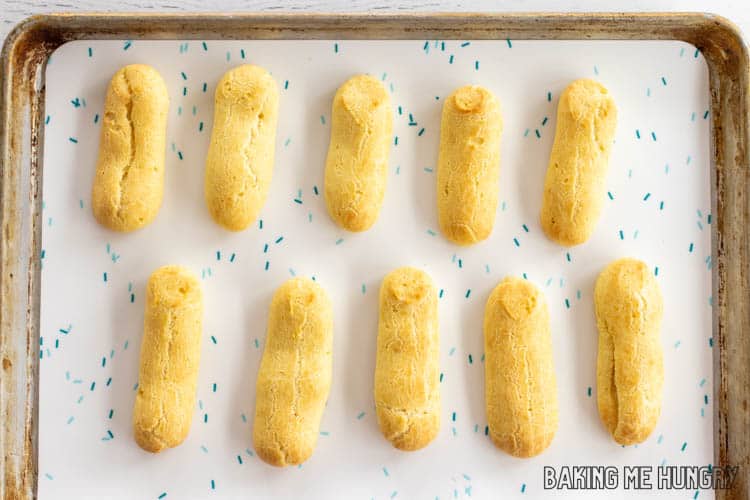 To make the pastry cream:
Step One: Add the milk and vanilla to a saucepan and let it simmer.
Step Two: In a different bowl, mix the cornstarch, sugar, and egg yolks with a mixer until the coloring is light. Mix in the instant coffee.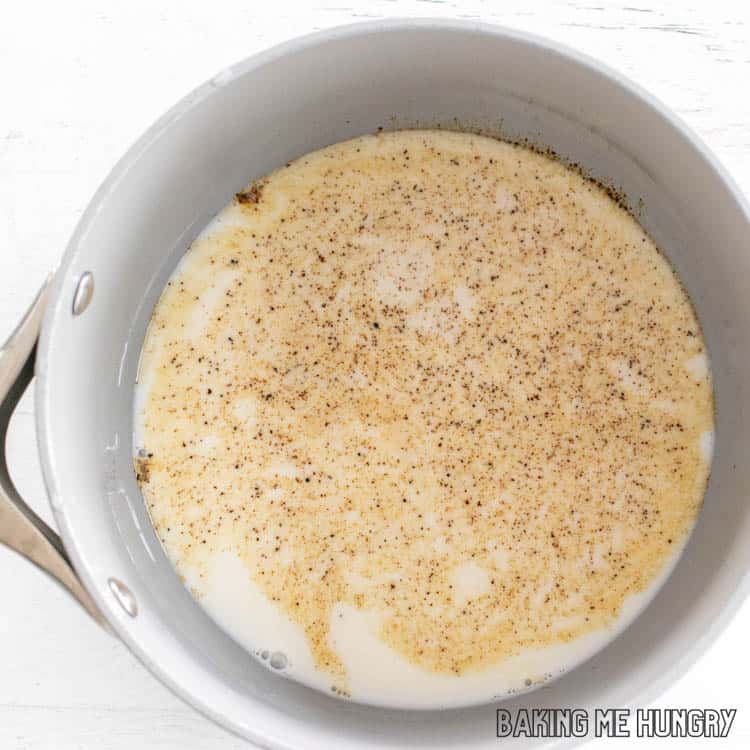 Step Three: While you are still mixing, very slowly add the hot milk to the mixture.
Step Four: Add everything back to the pan and bring it to a simmer on the stove. Let it cool until it is thick.
Step Five: Transfer the coffee cream mixture to a bowl and let it chill in the fridge for a minimum of 45 minutes to get cold.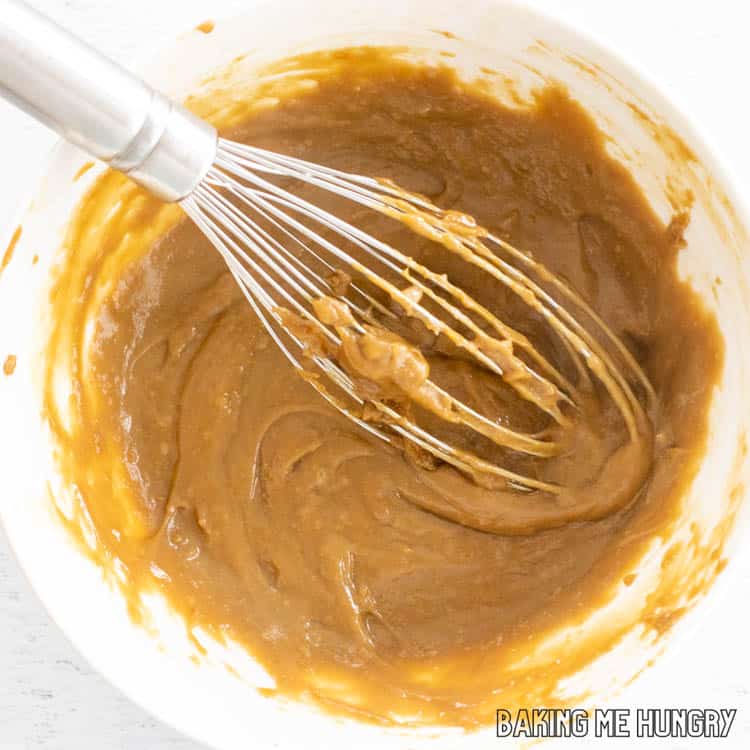 To fill the eclairs:
Step One: Slice the cooked eclairs down one side and then pipe in the cooled pastry cream.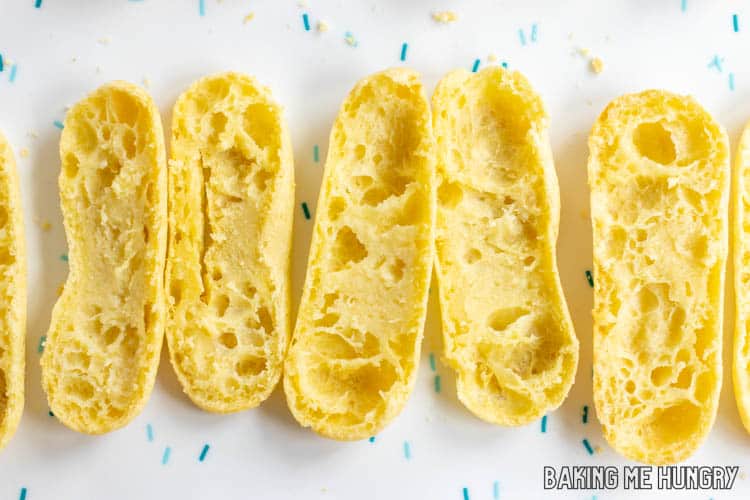 You can also poke holes in the bottom, and then fill the holes. Chill them while you are preparing the frosting.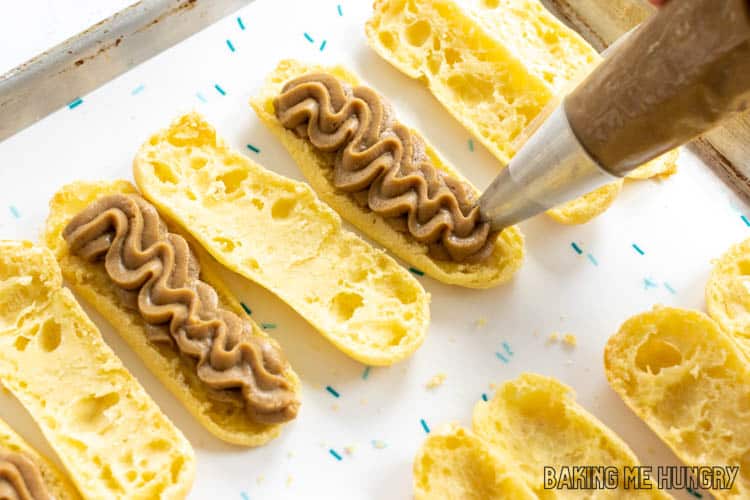 To make the frosting:
Step One: Heat the cream and then add the chocolate and stir until it is melted. Stir in the instant coffee and vanilla and let the mixture cool until it is thick.
Step Two: Dip or spread the frosting on the coffee eclairs.
Variations
Add icing sugar – If you want to make the coffee icing a bit sweeter, you can add some sugar on top of the ganache.
Get rid of the coffee essence flavor – IF you're not a fan of coffee beans or coffee flavor, you can easily omit to add instant coffee to this recipe. You can add cocoa powder instead for a chocolate pastry cream to fill them with.
Use a different topping – I like this simple chocolate glaze on coffee eclairs. But you could also just melt dark chocolate to cover the long éclair shapes without adding the cream. It will just set firmer than if you turned it into a ganache. You can also top them with white chocolate, whipped cream, or a simple coffee glaze as well.
If you like a sweet and savory flavor combo, adding a pinch of salt to the top is fun, also.
Ice cream eclairs – Skip the pastry cream and fill these with Chocolate Coffee Ice Cream.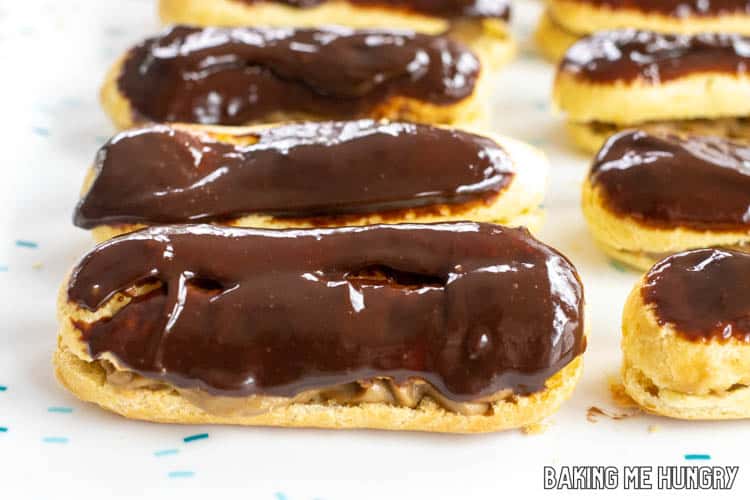 Common Questions
What do eclairs taste like?
If you've ever had cream puffs, they're a lot like that! The golden brown pastry is delicate and tender, and the middles are filled with a filling that has a pudding consistency. You'll really notice the flavor of the coffee in this recipe, but it's not overpowering.
Do I have to use a piping bag to add the filling?
I would highly recommend it. If not, you definitely have to cut them to fill them. Otherwise, you'll have to make a small hole using your finger, or another object, and then try to squeeze the filling inside. A plain nozzle attached to a piping bag makes for a really easy option for adding the coffee pastry cream.
You can add a small nozzle or a star tip to make sure that you're filling the coffee éclairs all the way full.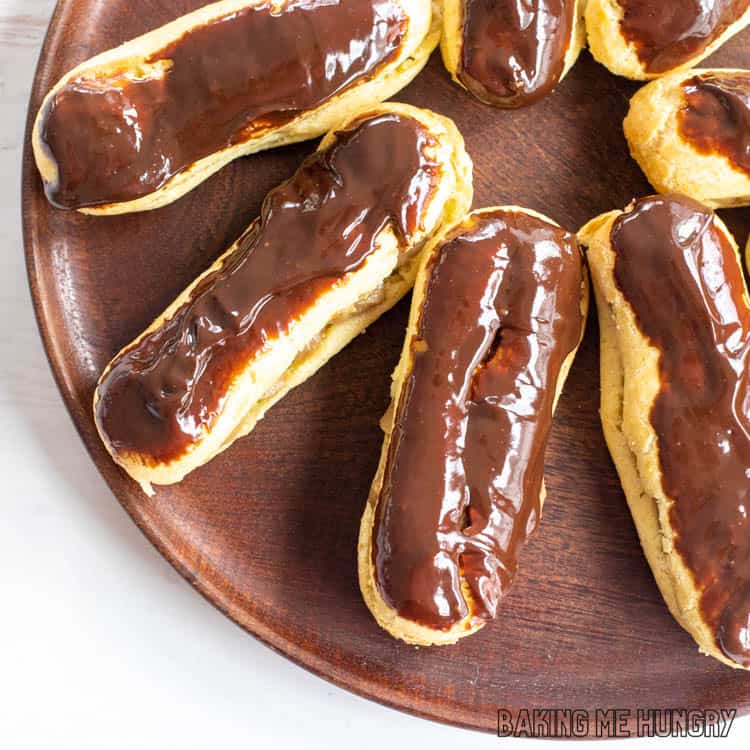 What else can I use besides instant coffee?
You can use espresso powder as well. Instant espresso granules will give you that coffee flavor and taste.
Can I use another icing?
If you really want to. Just keep in mind that making the frosting for this coffee eclairs recipe just takes 1-2 minutes, so it's not a hard addition to use.
Buttercream – Generally, buttercream icing isn't used for eclairs. They require chocolate icing that is closer to a glaze.
Fondant – This type of icing isn't typical for eclairs, but if you're wanting to make a fancy look, you can use it to make little flowers or shapes to place on the tops.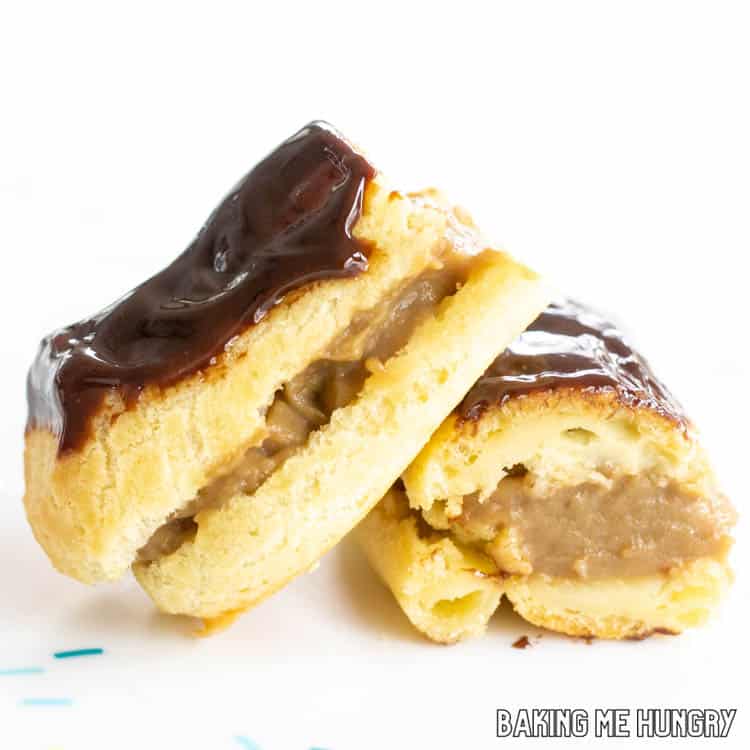 Like what you see? Follow us on Facebook and on Instagram! Love this recipe? Leave a comment & a 5-star rating right here! Make sure you don't miss new recipes by getting email updates!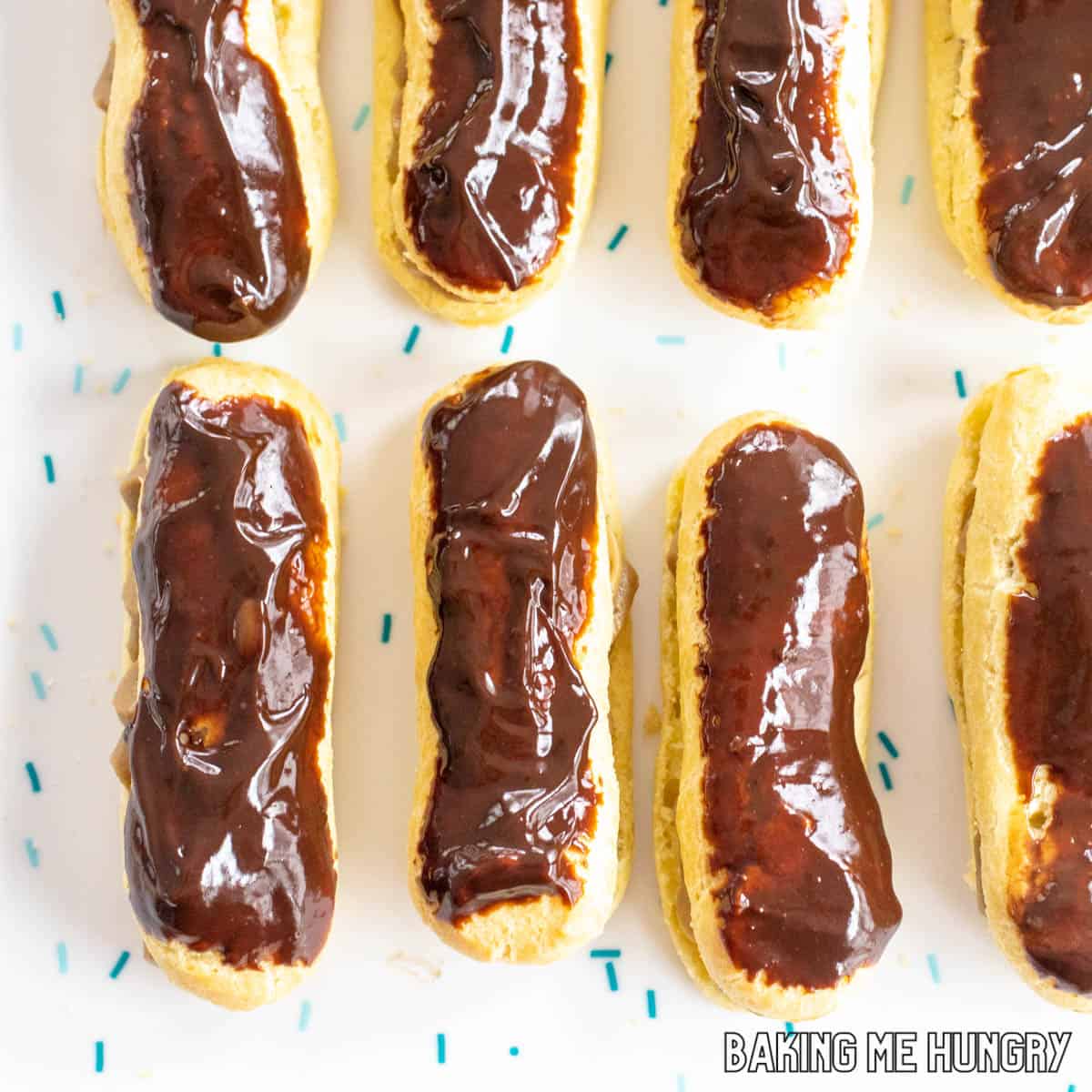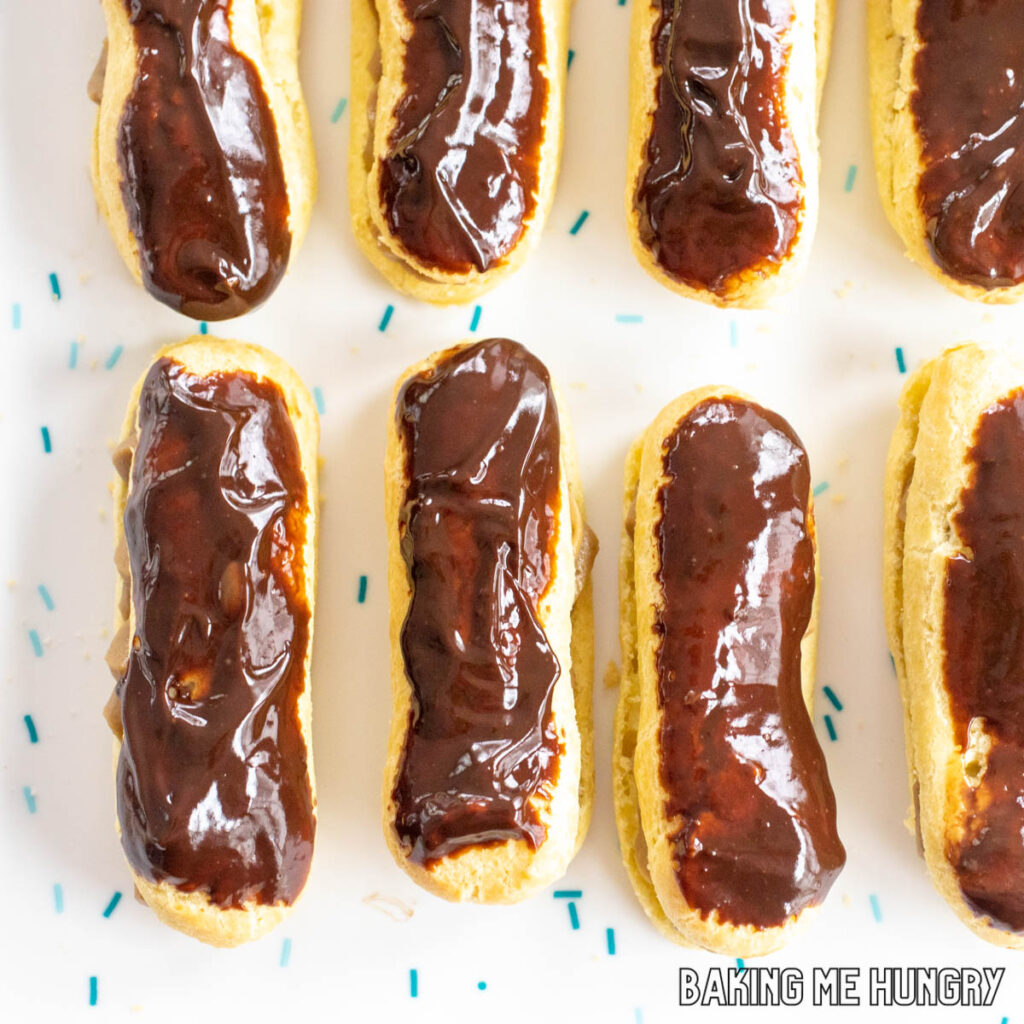 Ingredients
Pastry
¼

cup

water

¼

cup

whole milk

4

tablespoon

salted butter

½

teaspoon

granulated sugar

½

cup

flour

2

eggs
Pastry Cream
1

cup

whole milk

1

teaspoon

vanilla extract

⅓

cup

granulated sugar

2

tablespoon

cornstarch

2

egg yolks

2

tablespoon

salted butter

room temperature

2

teaspoon

instant coffee
Frosting
¼

cup

semisweet chocolate chips

1

oz

heavy cream

1

teaspoon

vanilla
Instructions
Pastry
Line a baking sheet with a silicone mat.

In a small saucepan combine the water, milk, butter, and sugar for the pastry. Bring to a boil. Remove from the heat and stir in the flour.

Return to the stove and cook over medium until the dough comes together in a ball.

Transfer to a stand mixer or large bowl and beat for a minute or so. Add the eggs one at a time. The dough will become smooth.

Pipe the dough using a ½ inch round tip to form 8 eclairs. They will each be about 4 inches long.

Bake at 425 for 10 minutes. Do not open the oven. Reduce heat to 325 and bake for another 30 minutes or until golden brown. Cool on a rack.
Pastry Cream
In a medium saucepan bring the milk and vanilla to a simmer.

In a separate bowl mix together the sugar, cornstarch, and egg yolks with an electric mixer until light in color. Mix in the instant coffee.

While mixing, very slowly stream the hot milk into the egg mixture.

Add this back to the saucepan and bring to a simmer. Cook until thickened.

Transfer to a bowl and chill until cold, at least 45 minutes.
Eclairs
Slice the eclairs down one side and pipe in the pastry cream. Alternatively, you can poke holes in the bottoms with the pastry bag tip and fill them that way. Chill while making the frosting.
Frosting
Heat the cream and add the chocolate. Stir until melted. Stir in the vanilla and instant coffee. Cool until thickened.

Dip or spread the eclairs with the frosting. Store in the refrigerator.
Nutrition
Calories:
196.7
kcal
|
Carbohydrates:
17.4
g
|
Protein:
3.8
g
|
Fat:
12.4
g
|
Saturated Fat:
7.2
g
|
Polyunsaturated Fat:
0.7
g
|
Monounsaturated Fat:
3.5
g
|
Trans Fat:
0.3
g
|
Cholesterol:
96.8
mg
|
Sodium:
81.8
mg
|
Potassium:
107.2
mg
|
Fiber:
0.5
g
|
Sugar:
10.2
g
|
Vitamin A:
402.7
IU
|
Vitamin C:
0.02
mg
|
Calcium:
55.4
mg
|
Iron:
0.9
mg
Love coffee? Try these: