Save yourself some money and make this Mocha Iced Coffee Recipe at home! It's a fast and easy way to treat your coffee cravings with a lot of yummy sweetness, too!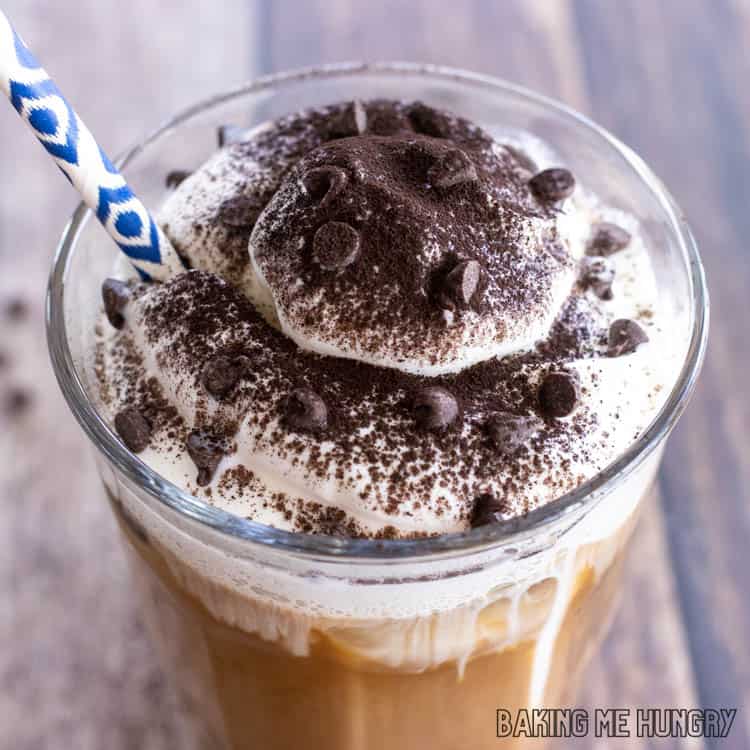 With just five simple ingredients, anyone can start their day off by making their own iced mocha latte! This is a simple recipe that proves that anything can be made right at home. Save yourself some time in the morning hours and skip the drive-thru. This cold coffee recipe is one that you're going to love.
I like to pair this with muffins or scones or sometimes just a good book as I soak in the joy of the weekend hours. Regardless of how you like your iced coffee, this recipe makes sure that you can make it anytime that you want.
Speaking of great recipes, be sure to check out my Coffee Cookies that would be a great pairing for this drink! Or go all out and make some Coffee Eclairs.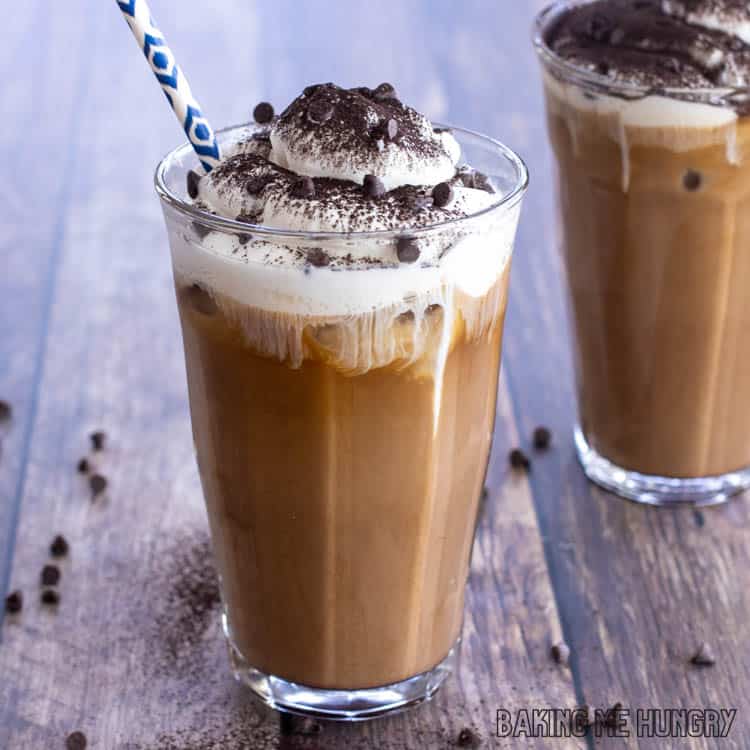 Ingredients
Cold coffee – You can use leftover coffee from the day before or brew a new pot and let it cool. I keep leftover coffee in a container in the fridge to make this drink.
Half and half – Adds richness and texture.
Chocolate syrup – Adds sweetness and chocolate coloring.
Ice cubes – To make it chilled.
Simple syrup – This is optional, but a fun way to add a new flavor and taste.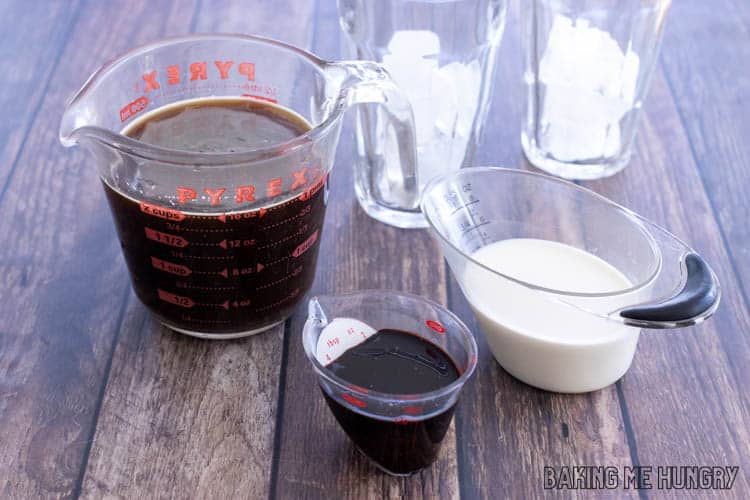 How to make this Mocha Iced Coffee Recipe
This recipe is fast and simple to make to get that caffeine fix quickly!
Step One: Pour the half and half and chocolate syrup together in a bowl and whisk to combine.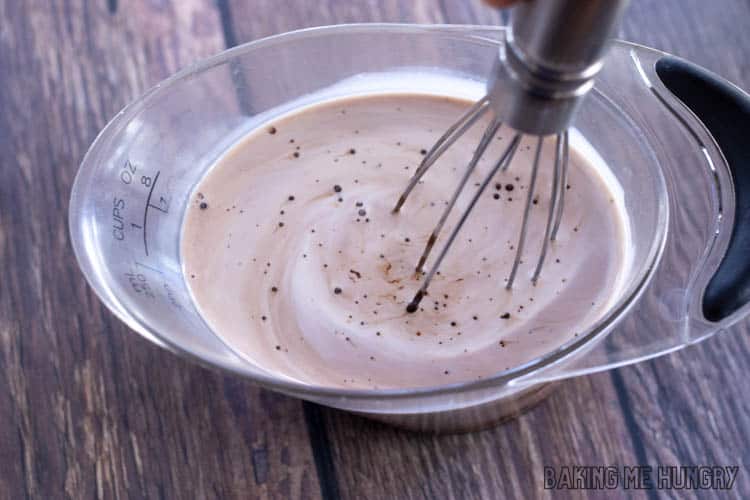 Step Two: Add the ice cubes to a glass.
Step Three: Pour the whisked mixture into the glass with the cold coffee.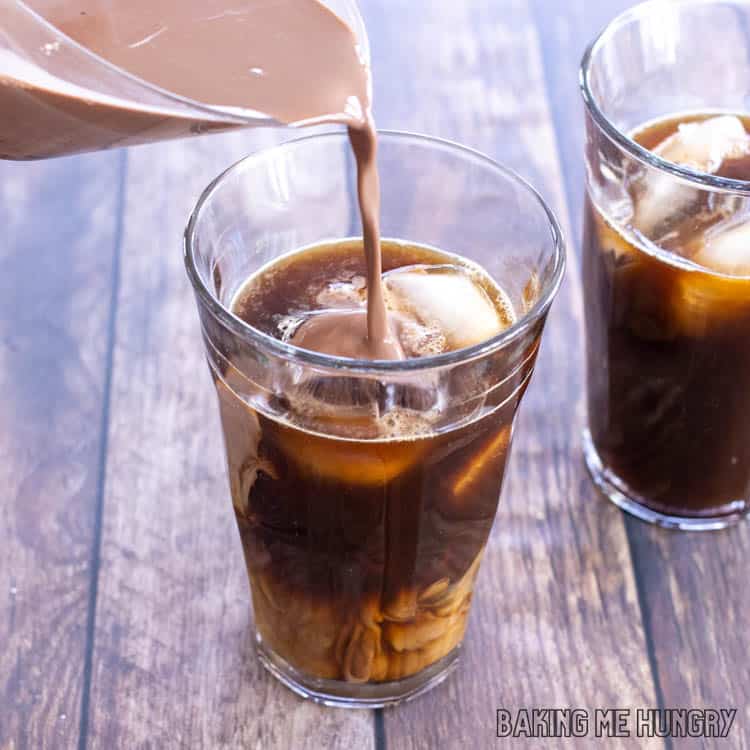 Fill to the top of the cup, or however full you want it.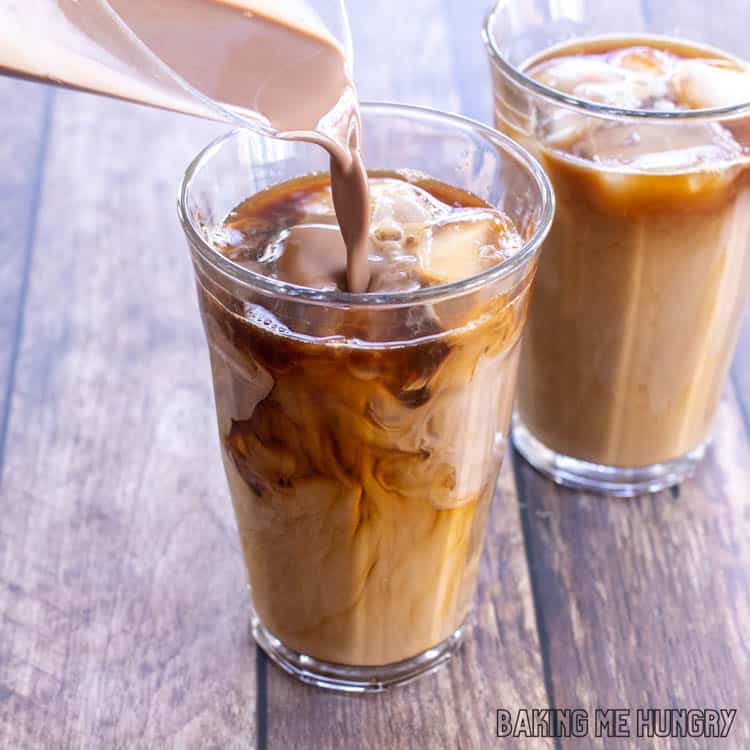 Step Four: Add toppings to your liking.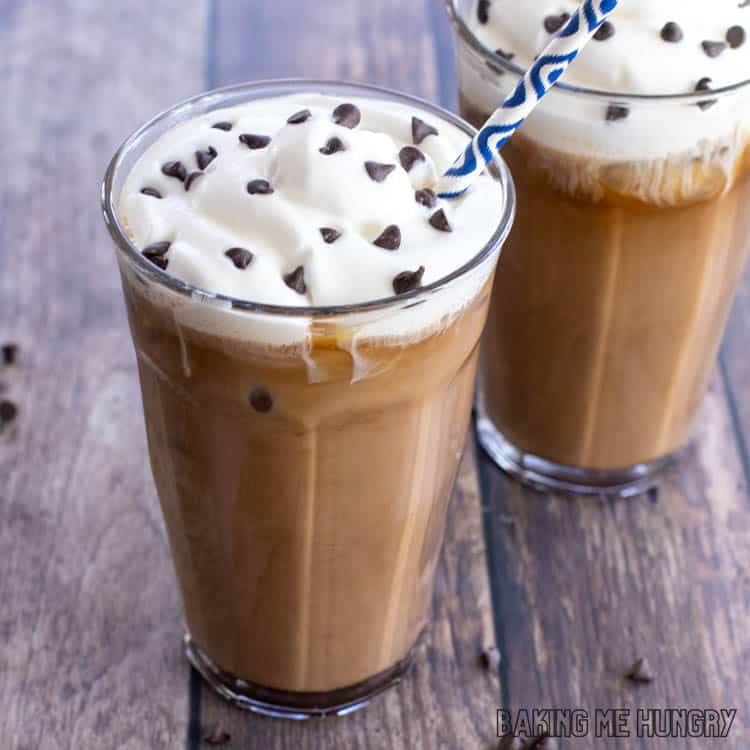 Step Five: Add some cocoa powder or expresso powder on top. We used black cocoa powder because that's what we had but regular cocoa powder is fine.
Expert Tip: Black cocoa powder tastes like an Oreo cookie which is why we use it in this Oreo Iced Coffee Recipe.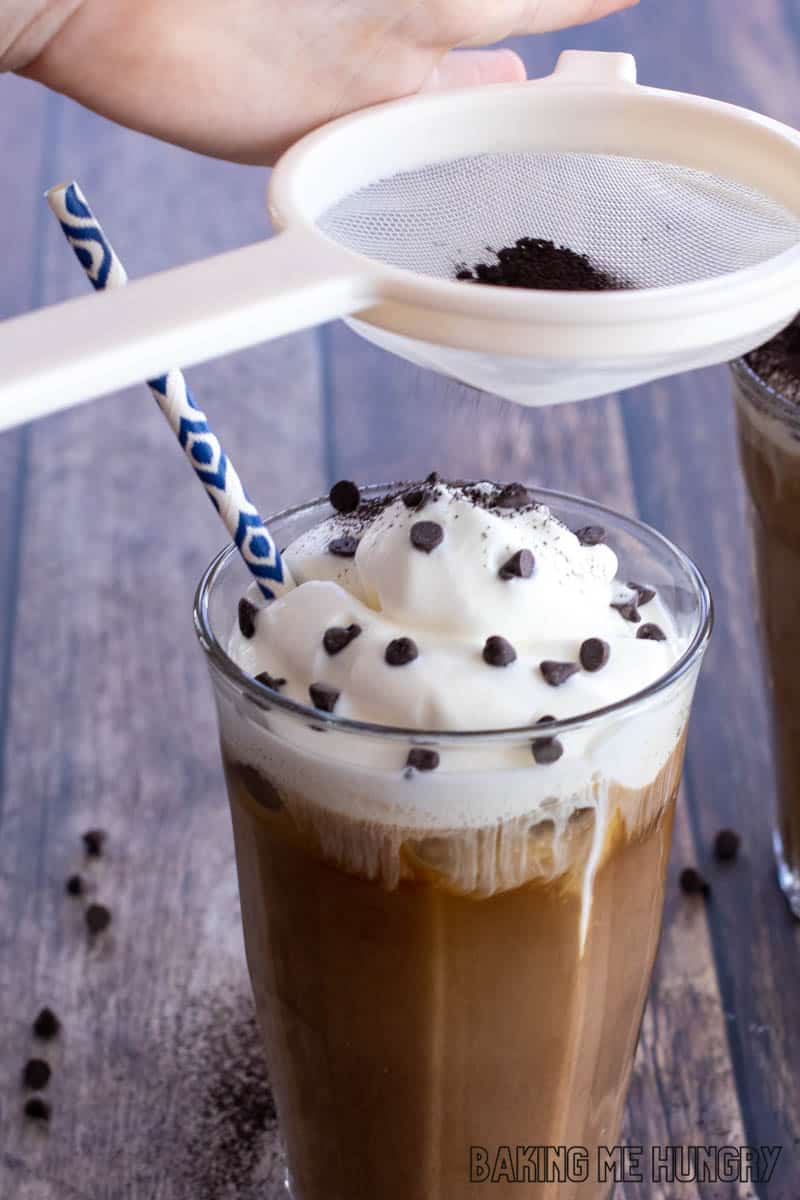 Variations
Add toppings – If you want to make this more like a dessert, add toppings! Whipped cream, mini chocolate chips, chocolate drizzle, or anything else that you desire are perfect choices.
Add vanilla – You can make this a chocolate vanilla latte easily by adding some vanilla extract to the mixture.
Froth – You can also make it frothy by using a handheld milk frother when mixing it.
Add ice cream – To really make it sweet and delicious and cold, add a scoop of ice cream in the bottom of the cup! This might turn it into more of a creamy dessert, but it will still have that caffeine flavoring and taste that everyone will love. We love this Chocolate Coffee Ice Cream Recipe.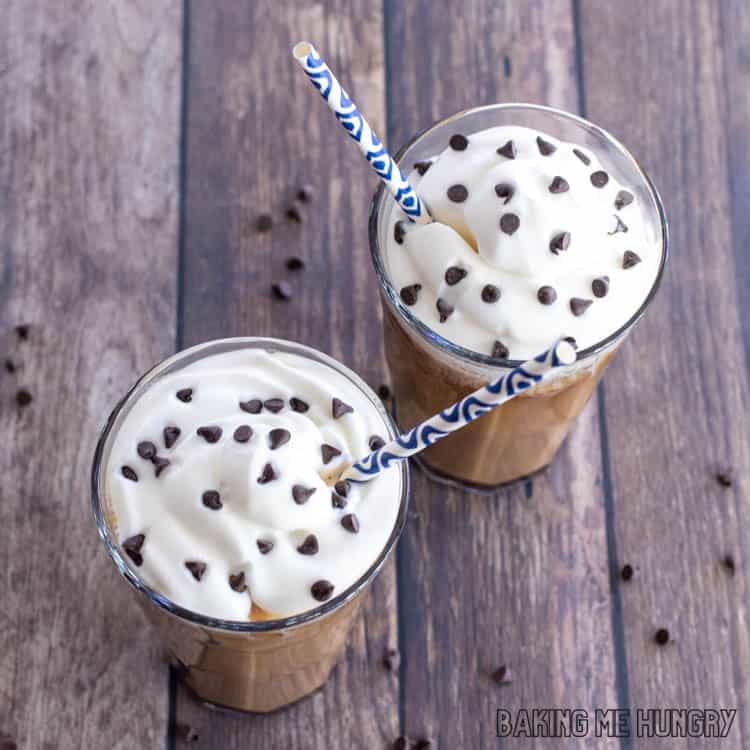 Common Questions
How do I turn this into an iced peppermint mocha?
Adding mocha syrup and chocolate shavings is a great way to add chocolate flavor, but you can easily add peppermint flavoring, too, by adding in a peppermint simple syrup. This is the perfect way to keep the mocha as the main ingredient with a hint of mint. Your taste buds will pick up on the peppermint latte recipe and love it!
Will this taste like what I can get at the coffee shop?
Iced coffee recipes are really popular to make because they are easy recipes to replicate. If you're a fan of Starbucks Iced Mocha, this is literally what it will taste like when you make it at home. The cold brew concentrate is simple to make, and this creamy drink is so much cheaper than what you can buy.
Just make sure that you follow the recipe card to make this cold drink and give it a good stir before drinking. You'll find that homemade mocha lattes are a fun way to make cooled coffee taste like a new delicious drink.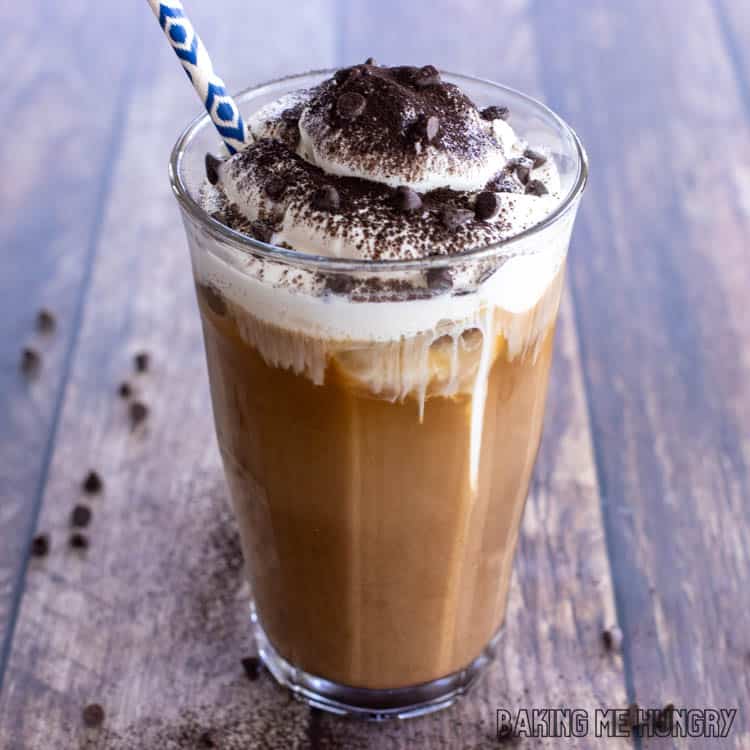 Can I make this easy iced mocha recipe in advance?
For the best coffee flavor, it's best to make this fresh when you're getting ready to drink it. You can make extra coffee ahead of time and let it cool, but as for making this drink ahead of time to curb your caffeine cravings, fresh is best.
The reason for this is that the iced latte will start to melt once you mix everything together with the cold brew coffee. The last thing that you want is to have watered-down iced mocha coffee!
If you want to have the best flavor, make it just a few minutes before you plan on drinking it! Or if you're running out the door, add it to a to-go cup so that you can drink it on the road!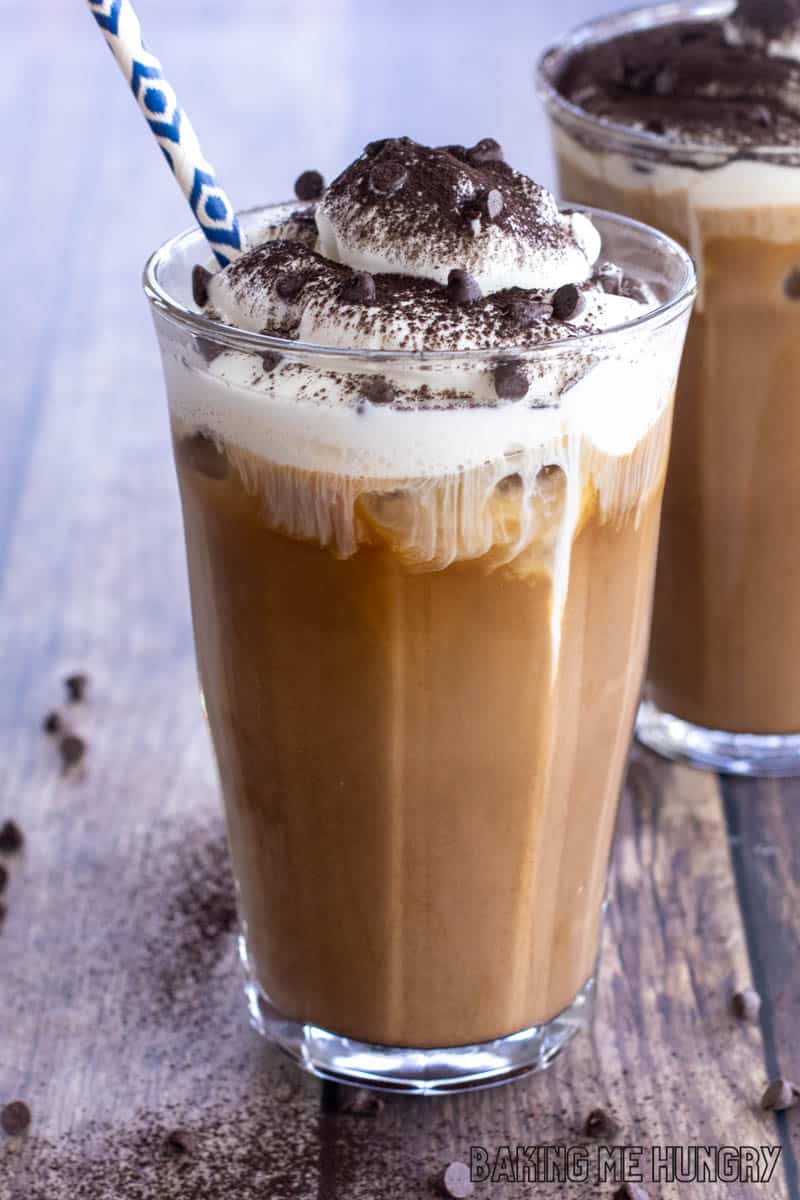 Like what you see? Follow us on Facebook and on Instagram! Love this recipe? Leave a comment & a 5-star rating right here! Make sure you don't miss new recipes by getting email updates!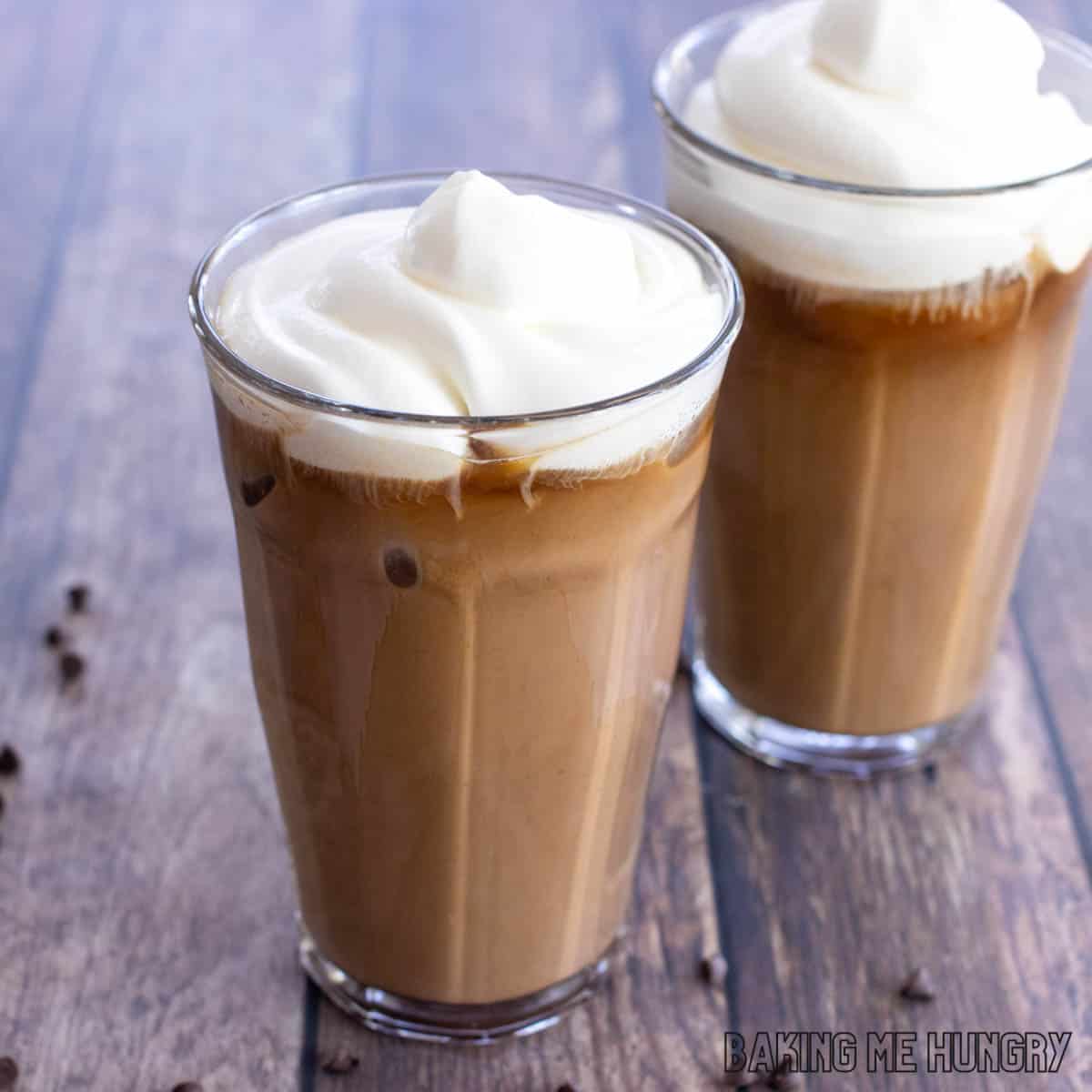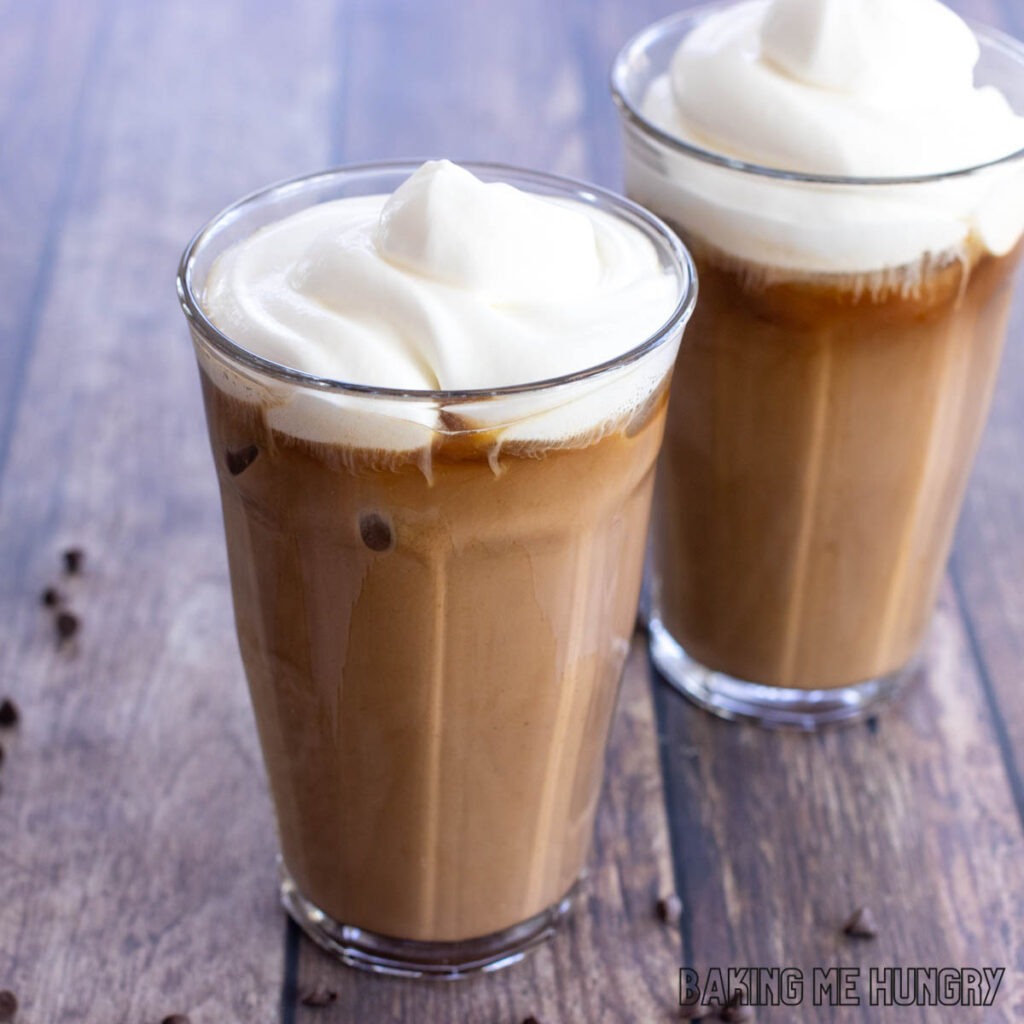 Ingredients
8

oz

cold coffee

2

oz

half and half

1

oz

chocolate syrup

1

cup

ice cubes

2

tablespoon

simple syrup

optional
Instructions
Mix together the half and half and chocolate syrup.

Add the ice cubes to a glass and top it with cold coffee.

Pour the whisked mixture into the glass over the cold coffee.
Nutrition
Calories:
155.6
kcal
|
Carbohydrates:
20.9
g
|
Protein:
2.6
g
|
Fat:
6.9
g
|
Saturated Fat:
4.1
g
|
Polyunsaturated Fat:
0.3
g
|
Monounsaturated Fat:
2
g
|
Cholesterol:
19.8
mg
|
Sodium:
71.4
mg
|
Potassium:
249.5
mg
|
Fiber:
0.7
g
|
Sugar:
16.4
g
|
Vitamin A:
200.7
IU
|
Vitamin C:
0.6
mg
|
Calcium:
76.3
mg
|
Iron:
0.7
mg