Are you looking for a fun and delicious way to start the day? Nutella Baked Oats has so much flavor – with chocolate and hazelnut it tastes just like a dessert. It really is like a sweet treat and breakfast in one!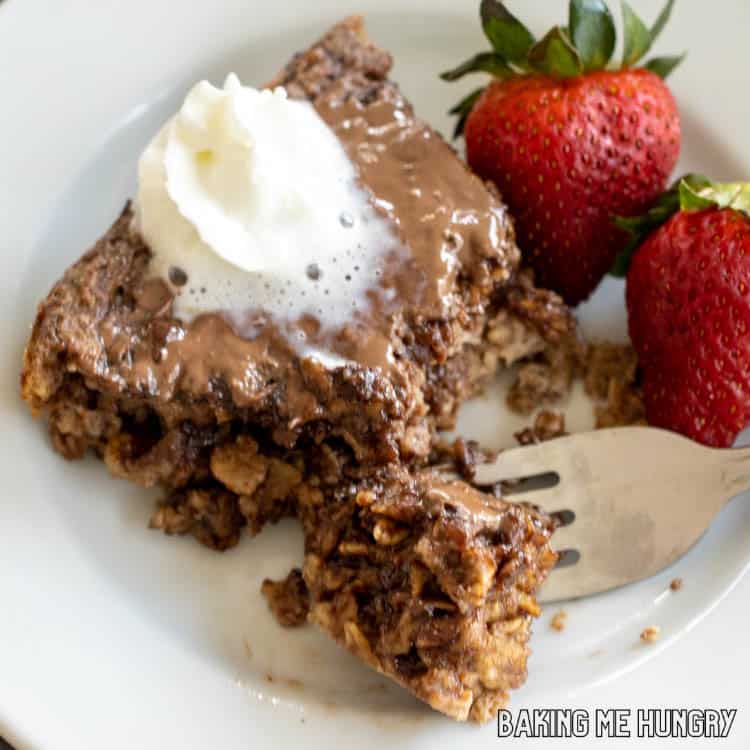 The fun part about making a new recipe is you get to enjoy new flavors and options. The chocolate flavor will have you second-guessing if breakfast recipes should taste this good – and the fluffy texture will leave you wanting more. If this is a way to enjoy an easy Nutella treat that even oatmeal haters won't be able to object, count me in every time.
​Make sure that you serve this delicious recipe at brunch and share it with others, too. It's the perfect size for cutting and serving and a great way to create a perfect breakfast spread by adding some sweetness to the table. And if you have oatmeal lovers joining, they'll be amazed at this special treat. This easy recipe has a cake-like texture without the time and difficulty of actually making and baking a cake.
Be sure to check out my 3 Ingredient Pumpkin Muffins and Baked Oats for One for other super simple ways to kickstart the day!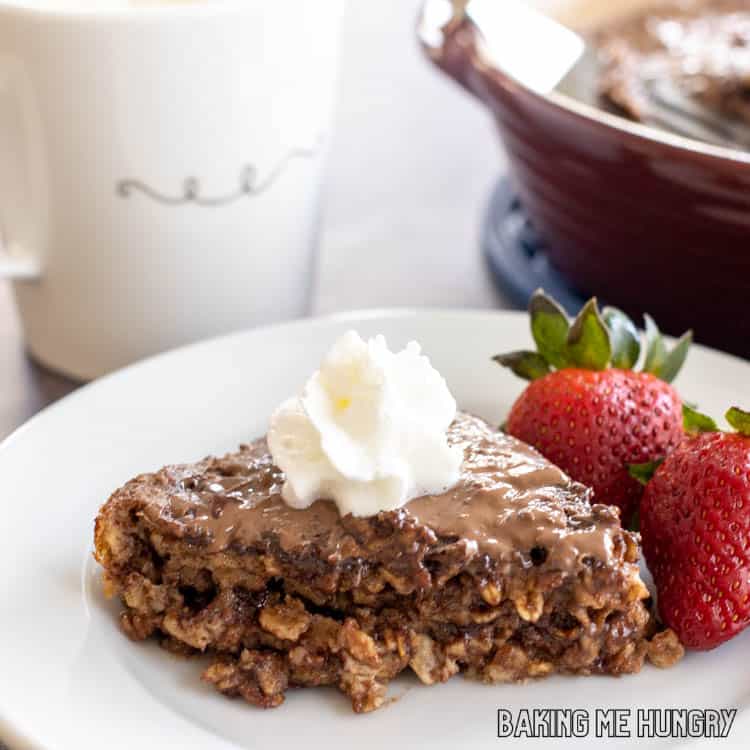 Ingredients
Oats – You can use quick oats or old-fashioned oats for this recipe.
Milk – Whole milk, coconut milk, oat milk, almond milk, or any milk option is fine.
Eggs – To help bind the ingredients together.
Nutella – Your new favorite ingredient to eat for breakfast!
How to make Nutella Baked Oats
Step One: Preheat the oven to 350 degrees. Grease or line a baking sheet with parchment paper.
Step Two: Grab the eggs and beat them in a bowl.
Step Three: Stir in the oats, milk, and ½ cup Nutella.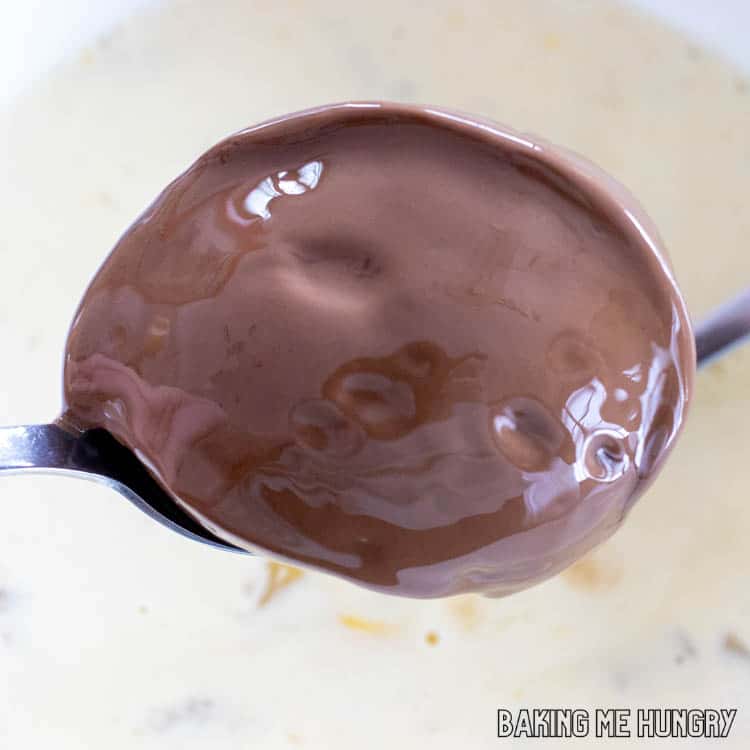 ​Step Four: Once combined, transfer the mixture to the baking dish. Bake for 30-40 minutes or until the oatmeal recipe is no longer jiggly.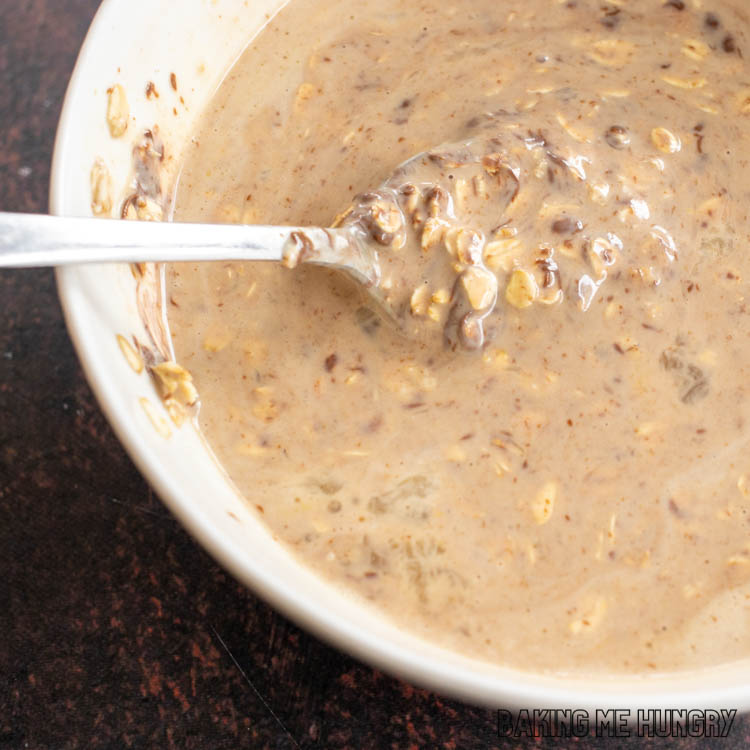 Expert Tip: I do recommend beating the eggs a bit first. I had a few ribbons of egg whites running through my baked oats since I forgot this step. But, it still tasted great!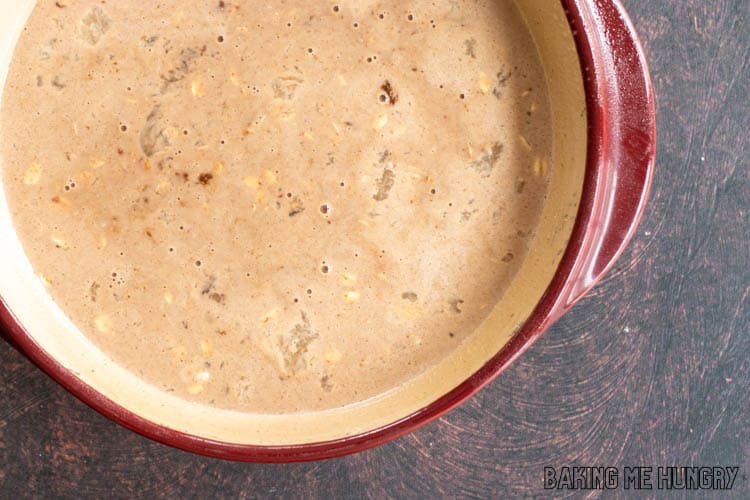 Step Five: Remove from the oven and then drop spoonfuls of Nutella on top. Let rest for 5 minutes so that the Nutella melts and spreads.
Variations
Add chocolate chips – Just in case the Nutella isn't enough sweetness for you, you can always add chocolate chips or even a dollop of a chocolate spread as well. Simple ingredients can be used to quickly transform the taste of this Nutella oats recipe.
Add protein powder – If you want to make this more of a healthy breakfast, adding a little bit of protein powder with the wet ingredients is a great idea. This is a great way to create a healthier option or even make this into a healthy dessert. Who says that you can't enjoy these flavors after dinner?
Add cocoa powder – To really change the taste, adding a little bit of cocoa powder is simple. It will also make it darker in coloring, too.
Add peanut butter – One of my favorite things to add to this recipe is peanut butter – or if you're feeling really ambitious, you can even make your own homemade Nutella to add!
Common Questions
Can I add fruit to this Nutella baked oatmeal recipe?
You can. If you want to mash and add a ripe banana, this is a great option. This can also be used in place of the egg if you're not wanting to use an egg. Applesauce is another great option that can be swapped out as well.
For a chewier texture, raisins or dried cranberries work great, too.
Can I use quick oats for this recipe?
​For this baked oats recipe, I used regular oats because it cooks in the oven for quite some time. If you want to use quick oats, they would work as well, just pay attention to the texture when you use them and then decide if you like how light and fluffy it becomes. The following ingredients on the recipe card are exactly what I used to make this recipe and it was delicious!
What should I use to grease the pan?
I'm a big fan of using coconut oil to grease the pan for this dish. That is because I love how coconut oil tastes and it combines so well with the oatmeal flavors. Since I make a bowl of oatmeal and actually add coconut oil to it, it just makes sense to use that same flavor and process to make the pan nonstick.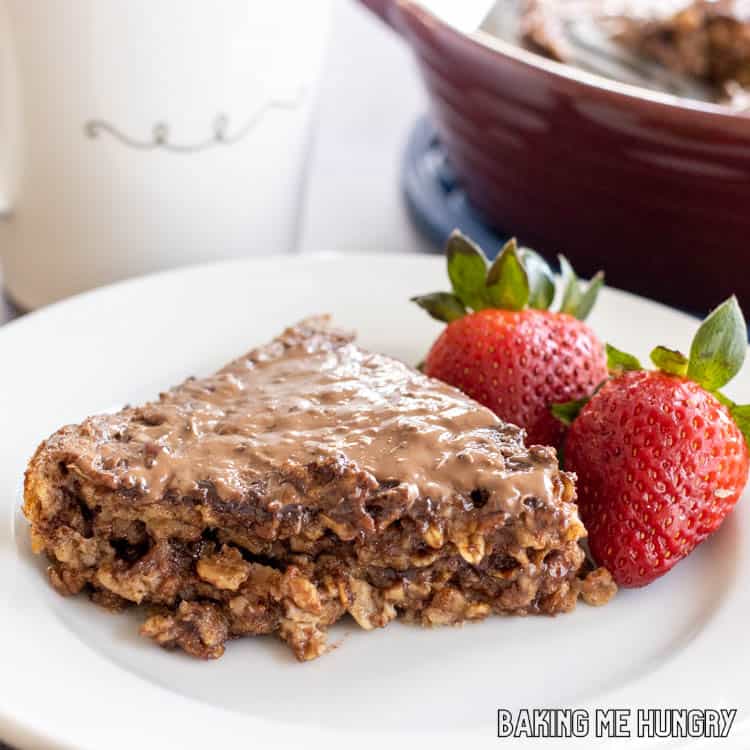 How do I store leftovers?
Once the baking time is done and the dish has cooled, store the remaining mixture in an airtight container and keep it in the fridge. It should stay good for 3-4 days to be able to enjoy it again. Just be sure to reheat it the next time that you're ready to eat it!
What toppings pair well with this oatmeal bake?
Fresh strawberries and whipped cream are two of my favorites! You can also add a little bit of shredded coconut on top for texture and taste.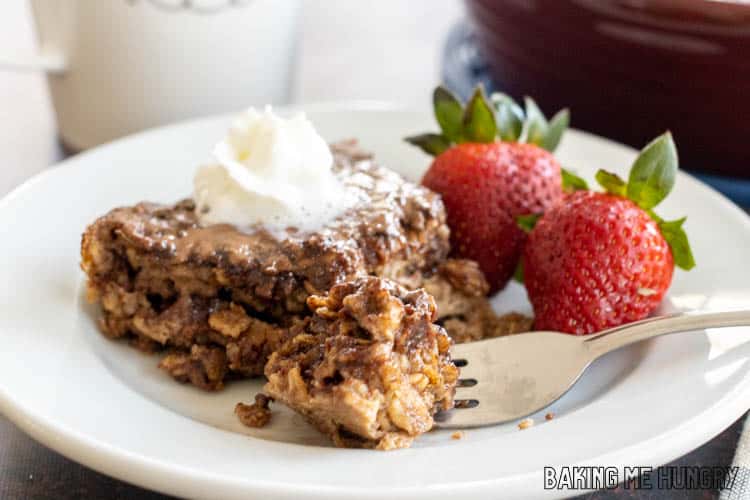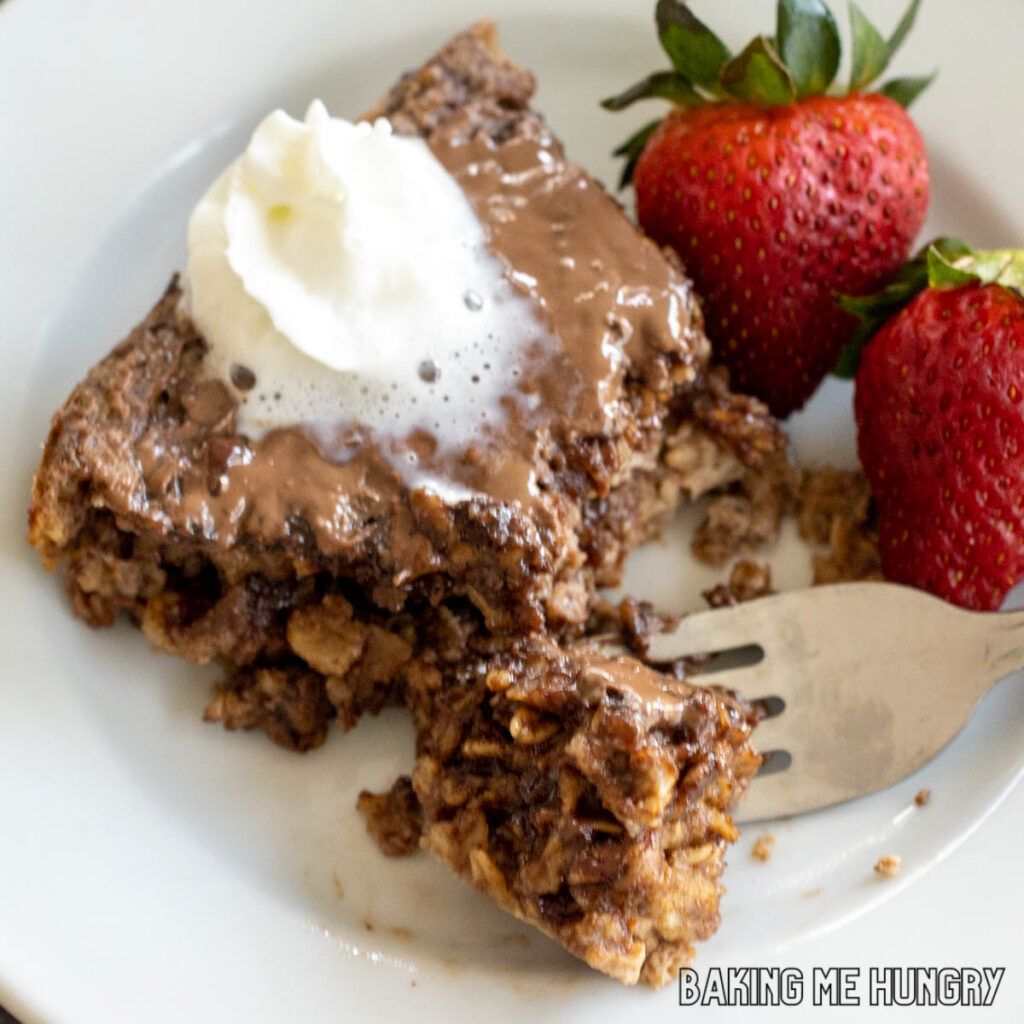 Ingredients
1

cup

oats

1

cups

milk

3

eggs

beaten

¾

cup

Nutella

divided
Instructions
Preheat oven to 350. Grease a 1-quart baking dish.

Beat eggs in a medium bowl.

Stir in the milk, oats, and ½ cup Nutella.

Transfer to the prepared baking dish.

Bake for 30-40 minutes or until no longer jiggly.

Drop small spoonfuls of the remaining Nutella on top of the hot baked oats. Let rest for 5 minutes to melt. Gently spread.
Nutrition
Calories:
309.2
kcal
|
Carbohydrates:
34.6
g
|
Protein:
7.9
g
|
Fat:
15.4
g
|
Saturated Fat:
12.2
g
|
Polyunsaturated Fat:
0.8
g
|
Monounsaturated Fat:
1.4
g
|
Trans Fat:
0.01
g
|
Cholesterol:
86.7
mg
|
Sodium:
62.9
mg
|
Potassium:
292.9
mg
|
Fiber:
3.4
g
|
Sugar:
22.4
g
|
Vitamin A:
185.8
IU
|
Calcium:
109.9
mg
|
Iron:
2.6
mg