Do you crave cookies with a chewy texture? These Brownie Crinkle Cookies are just the sweet treat you need! Perfect fudgy chocolate cookies to enjoy any time of the year. These easy baked cookies are fast, simple, and addictive!
There's no denying that the fudgy centers of baked brownies are the best part – so why not replicate that with cookies? Add those chewy edges that round out the texture, and don't forget to pair them with a glass of milk. This brownie crinkle cookies recipe just might be one of the first things that you crave when you wake up – and I wouldn't blame you!
I say that the crunch of a cookie would pair really great with a cup of coffee, so you should enjoy this any time of the day that you want. Chocolate lovers will agree that this just might be the perfect cookie! They are wonderful during the Christmas season to go on on your favorite tray of Christmas cookies.
Be sure to check out my Salted Brownie Cookies for another sweet dessert and flavor. I tweaked that dough to make these. You can't go wrong with both of these tasty cookie recipes!
Make a batch of Lemon Blueberry Cookies and 3-Ingredient Banana Cookies to with them and you will have choices to please any and every cookie lover.
Ingredients
Sugar – Adds sweetness to the cookie dough. I like to use a combination of white and brown sugars in this recipe.
Flour – All purpose flour is the main ingredient used to create the dough.
Cocoa powder – Unsweetened cocoa powder adds a dark coloring to the cookie dough and also a hint of chocolate flavoring.
Brown sugar – For added sweetness. This also helps the cookies be chewy and soft.
Baking soda – This helps to give the cookies a nice texture. Make sure your baking soda is fresh. If it is expired the cookies will not rise properly.
Salt – Adding a bit of salt enhances the other flavors.
Salted butter – This needs to be softened very well. I only buy salted butter but if you have unsalted butter just add an extra pinch of salt.
Egg – Acts as the binding agent to help form the cookie dough and hold the ingredients together.
Vanilla extract – For flavor. Vanilla naturally enhances all the other flavors. You may not taste it but you can taste if it is not there.
Powdered sugar – To roll the cookie dough balls into.
How to Make Brownie Crinkle Cookies
This is a photo guide to making the cookies. The complete measurements are below the pictorial guide in the recipe card.
Step One: Preheat the oven to 350 degrees. Add parchment paper to 2 cookie sheets.
Step Two: Mix the sugars, cocoa, flour, baking soda, powder, and salt together in a large bowl.
Step Three: Add the butter, egg, and vanilla. Mix until smooth with a wooden spoon or electric mixer.
Expert Tip: Your butter needs to be very soft for the dough to come together. If you are having trouble with a wooden spoon switch to a hand mixer.
Step Four: Scoop out 18 cookies with a medium cookie scoop and then roll each cookie into the powdered sugar.
Make sure the sugar coating covers all the dough. Place on the baking sheet.
Step Five: Place the prepared baking sheets in the oven and bake for 10-12 minutes until barely set.
Variations
Add espresso powder – Give these fudgy brownie cookies a kick of flavor and caffeine.
Add chopped chocolate – You can easily add some milk chocolate or dark chocolate. You can add small chunks or chips to the mix or place some on top. Mini chocolate chips work great, too.
Add flaky sea salt – If you love a sweet, salty flavor, you can easily add some salt to the top of these crinkle brownie cookies. This is a great thing to try with the second batch!
Top with coarse sugar – Another fun topping idea for these fudgy brownie crinkle cookies is to add coarse sugar on top. This adds a sweetness and a crunch that is a tad bit different than the original recipe. You can also try alternative sugars like coconut sugar.
Peppermint – If you are making these for Christmas time consider adding a teaspoon of peppermint extract to make a mint chocolate cookie.
Common Questions
Can't I just use a homemade brownie mix for these cookies?
You can, but trust me when I say that one of the most important things to know about making these chocolate crinkle cookies is that the texture and flavor come from the fact that you're making them from scratch.
​A brownie mix might get you a base for these chocolate brownie crinkle cookies, but the flavor is all in making them homemade!
​How does the crinkle top form?
It's all about the combination of the wet ingredients and dry ingredients and then baking the cookies in the oven. Once you move them to the cooling rack, the cracks will start to form and be the star of the show.
​That's actually a really great perk of making these cookies – that they're supposed to have cracks in them!
How do I know when these cookies are done baking?
Your clue for these brownie batter cookies is that the top of the cookies should no longer be shiny. The edges will be firm, but the middle will still have that fudgy brownie center which will actually firm up after cooling down to room temperature.
How do I store leftover brownie cookies?
Be sure to let the baked cookies call all the way before storing them in an airtight container. Keep them in the fridge for up to 3 days for the best results.
If you want a warmed cookie, you can pop it in the microwave for about 10 seconds to soften it up and get the delicious chewy texture.
Like what you see? Follow us on Facebook and on Instagram! Love this recipe? Leave a comment & a 5-star rating right here! Make sure you don't miss new recipes by getting email updates!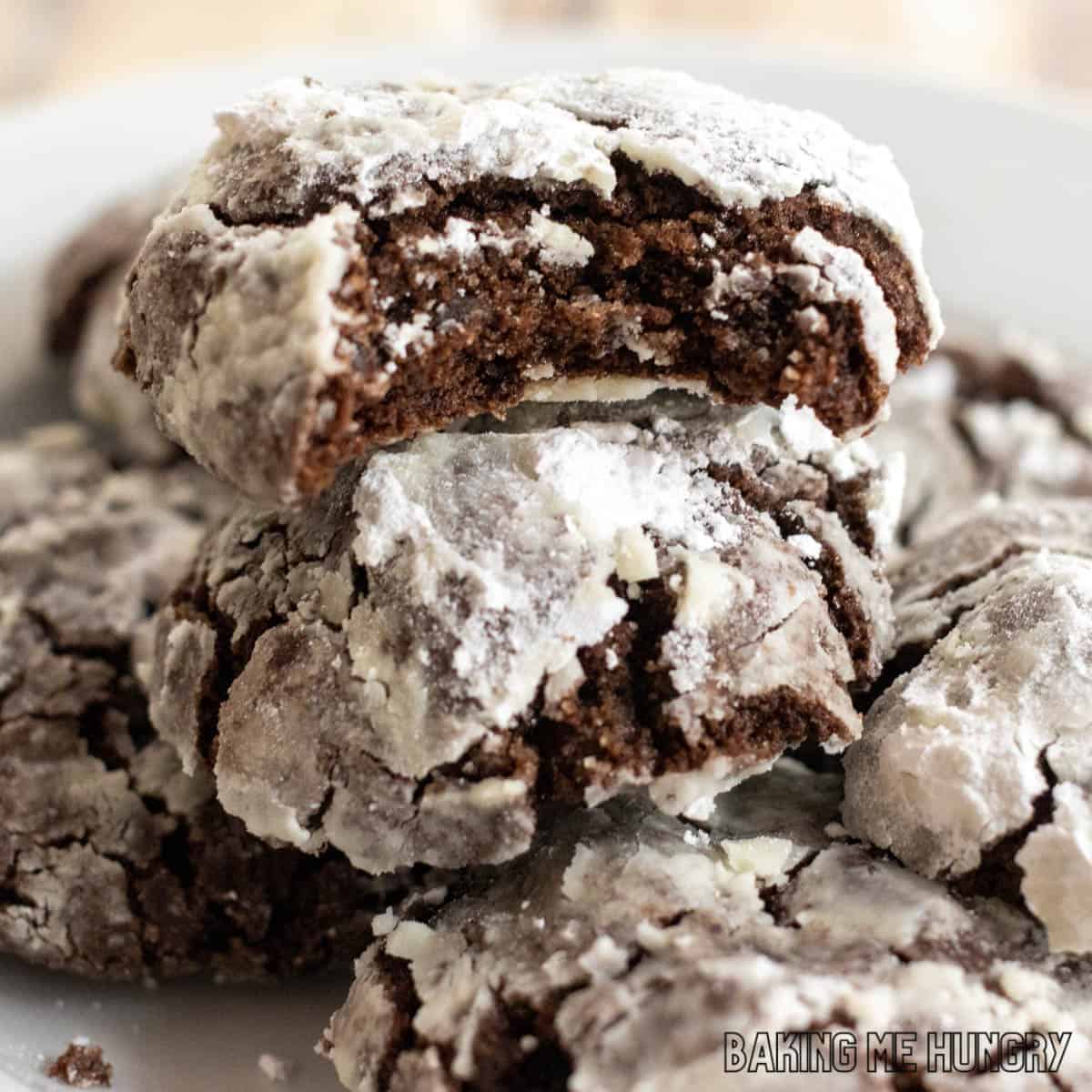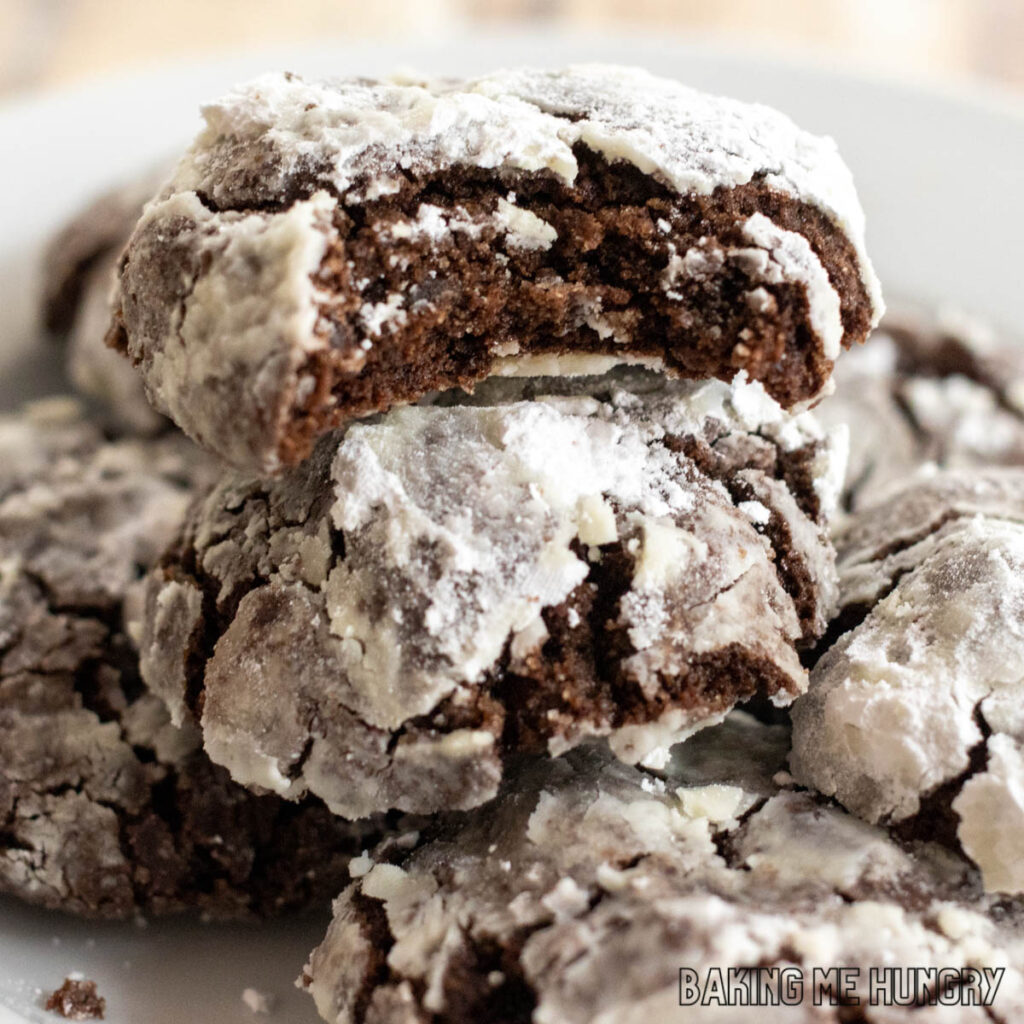 Ingredients
¾

cup

sugar

¾

cup

flour

⅓

cup

cocoa powder

2

tablespoon

brown sugar

¼

teaspoon

baking soda

¼

teaspoon

salt

⅓

cup

salted butter

very soft or melted

1

egg

½

teaspoon

vanilla
Instructions
Preheat the oven to 350. Line 2 large cookie sheets with parchment paper.

In a large bowl stir together the flour, sugars, cocoa powder, baking soda, and salt.

Add the egg, vanilla, and butter. Mix until smooth.

Scoop 18 cookies, rolling each in powdered sugar before placing them on the prepared baking sheets.

Bake for 10-12 minutes, until barely set.
Nutrition
Serving:
1
cookie
|
Calories:
106.7
kcal
|
Carbohydrates:
17.9
g
|
Protein:
1.2
g
|
Fat:
3.9
g
|
Saturated Fat:
2.4
g
|
Polyunsaturated Fat:
0.2
g
|
Monounsaturated Fat:
1
g
|
Trans Fat:
0.1
g
|
Cholesterol:
18.1
mg
|
Sodium:
79
mg
|
Potassium:
36.3
mg
|
Fiber:
0.7
g
|
Sugar:
12.9
g
|
Vitamin A:
118.3
IU
|
Calcium:
6.5
mg
|
Iron:
0.5
mg