Scottish Tablet Ice Cream is rich and creamy with a decadent caramel flavor and pieces of tablet candy scattered through each bite.
In 2017, my husband and I won a vacation to Scotland. It was our first time traveling outside North America together and we had a great time. While there I enjoyed plenty of Scottish sweet treats and even tried tablet ice cream.
More recently, my husband and I went to a wedding back in April of two friends, one of whom is from Scotland. As their wedding favor, they gave the guests small boxes of traditional Scottish tablet. When we got home and let the kids try it they were in love. My daughter has since made it countless times and has been looking for new and interesting ways to use it.
What is Scottish Tablet?
Tablet is a sweet, semi-firm candy from Scotland. It is made from sugar and milk, condensed milk, and butter, which are cooked to a soft and caramelized state and allowed to solidify. The flavor is similar to a pecan praline (without the nuts) and maple fudge (without the maple). It has a caramel flavor from the sugar and butter cooking together. The texture is a bit soft and a bit crunchy.
Ingredients
Sweetened Condensed Milk – Condensed milk is a dairy product that has been reduced in water content, then sweetened and packaged in a can. It is similar to evaporated milk but has higher sugar content. Condensed milk is used in many dessert recipes, such as milkshakes and ice cream.
Half and Half – Half and half milk cream is a type of milk that is made up of two different types of milk: whole milk and cream. It is made by mixing the two together and then it is put into a container. It is common in the US and used most often in coffee.
Brown Sugar – We decided to use brown sugar in the ice cream to mimic the caramelized flavor that is achieved when cooking the traditional Scottish candy.
Egg Yolks – The egg yolks in homemade ice cream help to make it creamy and smooth. Just like eggs help to make cake batter creamy and smooth, they do the same for ice cream. Adding egg yolks to ice cream also helps to make it a bit more rich and decadent.
Vanilla Extract – Vanilla extract is a flavoring made from vanilla beans. It is used to enhance the flavor of food. For example, if you are baking a cake, you might add some vanilla extract to make it taste better.
Scottish Tablet Pieces – The base for this ice cream tastes like tablet on its own. But for the best ice cream ever make sure to add some pieces of the candy as well.
How to Make Scottish Tablet Ice Cream
Step One: Combine all the ingredients, except the candy, in a blender. Blend until smooth.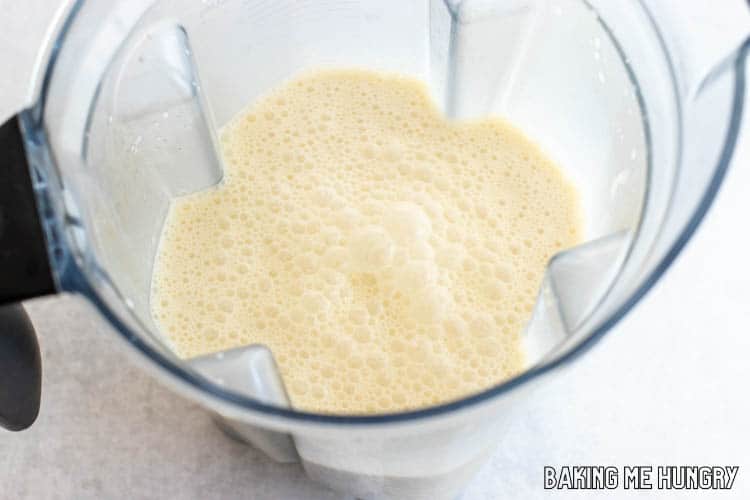 Step Two: Pour into an ice cream maker and freeze according to the manufacturer's instructions.
Step Three: Add the candy pieces during the last 2 minutes. Churn just until they are mixed in well.
Step Four: Transfer to a freezer-safe container and freeze until firm. This will take about 3-4 hours.
Variations
Nuts – Fold in roasted pecans, walnuts, or almond slivers when you add the candy.
Chocolate – Add in some dark chocolate chips when you fold in the pieces of Scottish tablet.
Salted Caramel – If you love salted caramel add a big pinch of coarse salt in the final step.
Whiskey – Stir in a tablespoon or two of whisky for a great treat. Don't use too much or the ice cream won't reach it's setting point.
Ice Cream Sandwich – Sandwich a scoop between two Biscoff Butter Cookies.
Common Questions
How do I make Scottish Tablet?
It is very easy to make a Scottish tablet recipe at home. All you need is a candy thermometer, butter, sugar, sweetened condensed milk, and regular milk. We have had good success with this recipe.
Where can I buy Tablet?
You can buy homemade tablet on Etsy. It is so easy to make at home though, and much cheaper.
How do I serve Tablet Ice Cream?
This is great for brownie sundaes with Condensed Milk Brownies or served on a slice of Banana Caramel Tart. But most often we simply enjoy a scoop in a small bowl or on a sugar cone!
Like what you see? Follow us on Facebook and on Instagram! Love this recipe? Leave a comment & a 5-star rating right here!
Ingredients
2

cups

half and half

½

cup

butter

melted

½

cup

brown sugar

1

can sweetened condensed milk

2

egg yolks

½

teaspoon

vanilla extract

½

cup

Scottish tablet pieces
Instructions
Combine the first 6 ingredients in a blender. Blend until smooth.

Transfer to an ice cream maker and freeze according to the manufacturer's instructions.

Add the tablet pieces during the last two minutes of churning.

Transfer to a freezer-safe container and freeze until firm.
Notes
The half and half can be replaced with 1 cup whole milk and 1 cup heavy cream, if desired.
Nutrition
Calories:
314.9
kcal
|
Carbohydrates:
43.9
g
|
Protein:
7
g
|
Fat:
13
g
|
Saturated Fat:
7.7
g
|
Polyunsaturated Fat:
0.7
g
|
Monounsaturated Fat:
3.9
g
|
Cholesterol:
88.3
mg
|
Sodium:
121.6
mg
|
Potassium:
307.3
mg
|
Sugar:
43.6
g
|
Vitamin A:
436
IU
|
Vitamin C:
1.8
mg
|
Calcium:
239.8
mg
|
Iron:
0.3
mg
Want more ice cream recipes? Try these: